Symposium on key research priorities in Lebanon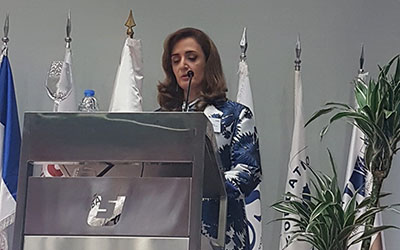 Prof. Marianne Abi Fadel, Dean of the School of Pharmacy at Saint Joseph University of Beirut
A symposium is organized on June 18th to bring together 140 experts and scientists to discuss "Hot Topics in Infectious Diseases". Held under the high patronage of Lebanon's Minister of Public Health, His Excellency Dr. Jamil Jabak, the symposium will provide a platform for discussion and knowledge-sharing for a wide audience of local and international scientists and healthcare professionals.
It will be punctuated by sessions on advances in antimicrobial resistance, tuberculosis and pneumonia, as well as on the role of infectious diseases in chronic illness. A session will be dedicated to the recently completed PEARL study on the causes of community pneumonia among refugee and Lebanese populations in the Bekaa Valley and Akkar/Tripoli region. This is the first study to systematically establish the prevalence and role of pathogenic microorganisms in the respiratory tract during a humanitarian crisis to provide recommendations for prevention and treatment and thus protect this vulnerable population.
International meeting of the GABRIEL network
The days of June 19th and 20th will be devoted to the GABRIEL network meeting. Discussions will focus on research on tuberculosis, antimicrobial resistance, fevers and acute respiratory infections. These sessions will be an opportunity to explore the latest advances in the network's collaborative projects, including the study involving teams located in Bangladesh, Georgia, Lebanon, Paraguay, Madagascar and France, to validate biomarkers that predict the effectiveness of anti-tuberculosis treatment. Similarly, the study to assess the impact of the PCV (Pneumococcal Conjugate Vaccine) vaccine in Paraguay, Cambodia and India will be the subject of several presentations.
Working groups on fevers and tuberculosis will be organized to discuss and define new research projects.
Young Scientists Award
As at each edition of this international meeting, young researchers will present their work. Three of them will be selected to receive the "Young Scientists" prize, which aims to support young scientists from developing countries in conducting their research projects and enabling them to present their work at international conferences. The awards will be presented by Alain Mérieux, President of the Mérieux Foundation.
This 10th edition of the GABRIEL network's international meeting is supported by the Agence Universitaire de la Francophonie (AUF) and the Bill & Melinda Gates Foundation. The meeting is also supported by the event's sponsors, Biocentric, Bioteck, SARAMED and BIODIAGNOSTIC, as well as by GABRIEL's partners, bioMérieux and BIOASTER.
About the GABRIEL network
The GABRIEL network was created by Fondation Mérieux in 2008 and now has 20 member laboratories in 16 countries. The network includes Rodolphe Mérieux Laboratories, local reference laboratories, as well as academic, university and hospital research institutes. This international scientific network works in synergy to develop the research and training capacities of local laboratories and improve surveillance of diseases with a major impact on public health in developing countries.
Learn more about the GABRIEL network
About the Mérieux Foundation in Lebanon
Since 2008, the Mérieux Foundation has been active in Lebanon, where it built the Rodolphe Mérieux Laboratory at the Health Technology Pole of Saint Joseph University of Beirut. The Rodolphe Mérieux Laboratory is Lebanon's national reference laboratory for tuberculosis. With its local partners, the foundation conducts collaborative research projects, provides expertise in medical biology, organizes conferences and participates in projects to improve the living conditions and health of mothers and children.
Learn more about the Mérieux Foundation in Lebanon
Press kit