Context
The 2013-2016 Ebola virus disease epidemic in West Africa, the biggest and most complex since the virus was discovered in 1976, hit Guinea, Liberia, and Sierra Leone the hardest. Its rapid spread showed the need to improve health systems in those countries to counteract weaknesses in surveillance, reporting, and response to outbreaks.
The WARDS project, launched in 2014, provided ECOWAS with an epidemiological surveillance mechanism, powerful early detection tools, qualified staff to provide an appropriate response, and communication tools. The WARDS project set up, equipped, and got 60 epidemiological surveillance centers up and running in 15 ECOWAS countries.
As a continuation of this project, to prevent new outbreaks and other public health emergencies (or provide an appropriate response when they occur), ECOWAS countries and the West African Health Organization (WAHO) founded the REDISSE project, with the participation of the Mérieux Foundation.
Objectives
Main objective
REDISSE's main objective is to strengthen the capacities of 47 health district laboratories in ECOWAS countries, in order to:
Bolster the laboratory diagnosis and confirmation skills of laboratory managers
Improve epidemiological surveillance and the response capacity of district laboratories
Specific objectives
As part of REDISSE, the Mérieux Foundation's objectives are to:
Improve the training of laboratory technicians in the health districts of target countries
Identify the equipment needed by the 47 laboratories and train the personnel to maintain it
Set up a quality control mechanism for analyses conducted by these 47 laboratories
Support the establishment of a network of laboratories to provide quality control through peer review
Activities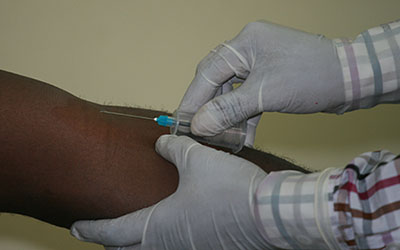 We have five types of activities:
Audit and evaluate the 47 laboratories (10 per country in Guinea, Guinea-Bissau, Liberia, and Sierra Leone; and seven in Togo): produce an evaluation chart, visit the laboratories, draft an audit report, and organize a feedback workshop.
Train 47 laboratory technicians: use the modules developed for the RESAOLAB project in the three working languages, train 10 national trainers (two per country), then organize the training sessions these trainers will offer to laboratory personnel.
Training supervision: help laboratories carry out training and send supervision reports to national authorities.
Set up quality management systems: suggest maintenance plans for the equipment, establish quality control measures and a network of laboratories for quality control.
Organize a final regional meeting to strengthen the national laboratory network.
Achievements
A staff was recruited to carry out the activities of this project initiated in October 2017. Four technical assessment visits of the laboratories in the selected districts were carried out in Guinea, Guinea-Bissau, Liberia and Sierra Leone.
Partners
Funder:
Operational:
The health ministries of the participating countries
Centers for epidemiological surveillance in the five countries