Les Pensières Center for Global Health serves as a global hub for sharing perspectives and ideas, thus contributing to one of the Mérieux Foundation's main objectives: to increase knowledge sharing and foster new initiatives in the field of public health.
Each year, Les Pensières hosts a hundred or so scientific conferences and trainings, including vaccinology conferences and international trainings such as ADVAC (vaccinology), ACDx (diagnostics), and AdCAb (antibiotics). The Center also hosts international conferences on dengue, influenza, neglected tropical diseases, pneumococcal infections, and other global health topics.
As well, Les Pensières hosts seminars and working sessions for organizations and companies that share the Mérieux Foundation's values.
A unique place with a global perspective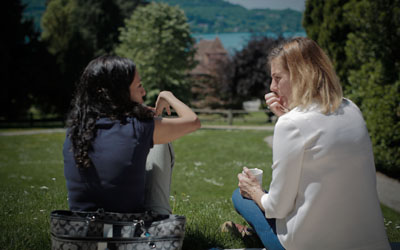 Les Pensières is an exceptional site that was designed as a global gateway, bringing together close to 6,000 health stakeholders each year. Nestled in a lovely green setting in Haute-Savoie, Les Pensières offers quality infrastructure and services that foster discussions and exploration.
Warmth, inspiration, perspective, synergies… Les Pensières allows visitors to "take a break" and discover new energy to revitalize teams and promote new ideas.
Download Les Pensières brochure