Every facility where we work has training and support mechanisms in place that guarantee lasting improvements in service quality and the rapid uptake of new diagnostic techniques.
Professional development
We provide the teams at renovated facilities with our expertise: initial training and then continuing professional development (CPD) in areas such as medical biology, quality standards and procedures, biosecurity and maintenance. A number of short, themed courses are made available locally according to need.
Degree courses
The Bachelor of Science in Biological and Applied Medical Sciences (BAMS) has been available in Mali and Haiti for several years; in partnership with the School of Biology, Biochemistry and Biotechnology (ESTBB) of the Catholic University of Lyon. BAMS is a degree course aimed at lab technicians, that runs for eight or nine months (reinforcing theoretical knowledge and practical skills, developing quality assurance processes, drafting protocols in line with Standard Operating Procedures, etc.). Over 50 students graduate every year.
In Mali (for West African students), the course ran for the first time in 2007. Backed by the Islamic Development Bank and Fondation Christophe et Rodolphe Mérieux, the course has been converted into a Master's at the University of Bamako, and in 2016, it was added to the Ministry of Education and Scientific Research's program.
In Haiti, the course has been delivered since 2011 in partnership with Fondation AnBer, Fondation Christophe et Rodolphe Mérieux, and the Haitian Ministry of Public Health and Population.
As part of a partnership between the State University of Haiti and the BAMS partners, the degree course is now integrated into the SUH Bachelor of Medical Biology as a fourth year of the course.
Learn more about the degree courses
Quality management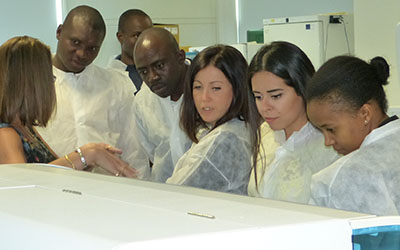 We support the laboratories in implementing a quality management system, which assures reliable results.
Establishing and adhering to a quality management system enables labs to improve their organization, demonstrate their technical competence, and assure reliable results.
We have therefore developed an improvement plan based on an incremental approach to implementing a quality management system for laboratories.
It has three objectives:
Developing knowledge,
Supporting the development of a long-term quality strategy,
Advising laboratory networks on developing tools and programs.
This initiative, which boosts a lab's overall performance, is built upon Laboratory Quality Stepwise Implementation (LQSI), a tool that the Royal Tropical Institute developed for the WHO in 2014.
Many projects also feature Quality Assurance programs run by the Mérieux Foundation. In 2014, we launched a quality initiative with the aim of ensuring that members of the GABRIEL research network meet the requirements of the ISO 15189 international standard. As part of the RESAOLAB project in West Africa, we helped 250 laboratories implement a quality strategy.
The CAMLAB project enabled 32 public laboratories in Cambodia to benefit from an external quality assessment program and training to implement the necessary corrective action. In Madagascar, we set up external quality control in 16 public labs as part of the RESAMAD project.
Learn more about the Mérieux Foundation's Quality Initiative in French