Our work is founded on historic expertise in clinical biology and a comprehensive approach to addressing public health challenges. Our objective: fighting against infectious diseases on the ground in developing countries and improving living conditions for mothers and children.
We focus on four priorities
Increasing vulnerable populations' access to diagnostics
We are committed to improving the access to diagnostics in developing countries because a rapid and reliable diagnosis and high-quality monitoring are essential steps in patient care. Yet, diagnostics remain the weak link in health systems in developing countries.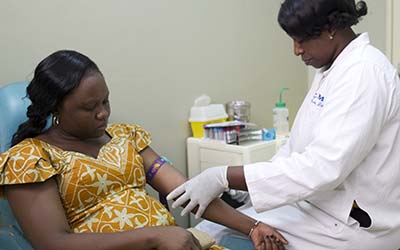 By strengthening clinical laboratories in national healthcare systems, we aim to increase vulnerable populations' access to diagnostics.
We strengthen the clinical laboratory sector in national health systems through a comprehensive approach: we renovate and equip facilities, we provide technical training, we implement new tests and quality, biosecurity and biosafety standards, taking into account laboratory management, cost recovery systems and building networks among the labs.
We always work in partnership with the health authorities to harmonize approaches and to share resources and expertise across regions, countries or sub-regions.
We strengthen the practice of clinical diagnostics and train personnel, both in capital cities and in the surrounding regions as part of a long-term engagement. Our goal is to build the capacities of our local partners to offer quality services to the population, for surveillance and clinical diagnostics and monitoring.
Enhancing local applied research capabilities
To fight the diseases that affect developing countries, we aim to build and increase the quality of applied research capabilities. We train scientists, develop collaborative applied research programs to address local infectious disease challenges.
Our research focuses on four main disease areas: respiratory infections, foodborne (enteric) diseases, emerging diseases, and antimicrobial resistance.
We also build laboratories of excellence in regions prone to infectious disease outbreaks in developing countries: the Rodolphe Mérieux Laboratories. They meet the most exacting international standards and are transferred to local partners.
Encouraging knowledge-sharing and public health initiatives
Dr. Charles Mérieux strived to make medical and scientific innovation accessible to the greatest number of people. We uphold that tradition and organize high-level scientific symposia and conferences, which disseminate medical advances internationally.
We also offer courses for public health decision-makers from developing countries to strengthen their skills and expertise.
We do this through Les Pensières Center for Global Health, our conference center located near Annecy, less than an hour from Geneva, which offers a unique environment for work and discussion.
In parallel, we support global innovative public health initiatives. These collaborations between international public and private stakeholders can make us more responsive and effective in the midst of a health crisis.
Improving conditions for mothers and children
Epidemic risks have never been higher in a world affected by wars and climate change, which favor the spread of infectious disease.
We cannot, however, address public health challenges by looking uniquely at medical care, which remains central to our action. We believe that healthcare requires a global approach and must be adapted to realities in the field.
Working with Fondation Christophe et Rodolphe Mérieux and local partners to provide housing, access to safe food and drinking water, better nutrition, education and employment, in addition to healthcare, we strive to sustainably improve the health and quality of life of the most vulnerable populations in low income settings: mothers and children.