As well as being the first step in effective treatment, diagnostics are also an essential tool for monitoring and controlling diseases. They must be made an integral part of national healthcare systems. Four priorities govern our work to develop biology labs:
Diagnostics are central to global health challenges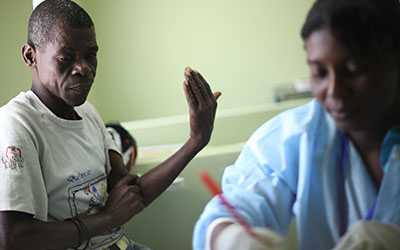 We carry out several projects dedicated to bolstering global monitoring capacity, a GHSA priority.
A bulwark against the spread of epidemics, diagnostics are a key component of the WHO International Health Regulations (IHR), which seek to prevent serious risks to global public health. In the wake of the Ebola epidemic in West Africa in 2014, bolstering global monitoring capacity is now a Global Health Security Agenda (GHSA) priority.
It has attracted substantial funding and been the subject of numerous calls for projects, particularly from CDC (US Centers for Disease Control and Prevention) and USAID (United States Agency for International Development). Several of our projects were able to secure funding from the Global Health Security Agenda, especially in Mali and Senegal.
Laboratory development projects