Mérieux Foundation co-organized event
Dengue pre-vaccination screening strategies workshop
20 - 22 January 2020 - Les Pensières Center for Global Health, Veyrier-du-Lac (France)
Summary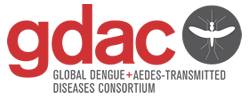 The Partnership for Dengue Control (PDC) organized a workshop on pre-vaccination screening for the use of dengue vaccines with differential performance dependent on serostatus: vaccine clinical updates, rapid diagnostic tests and implementation strategies, at Les Pensières Center for Global Health, January 20-22, 2020. This workshop was developed with the Global Dengue & Aedes-Transmitted Diseases Consortium (GDAC) Advisory Committee as a continuation of the workshop held in January 2019.
Dengue is a major public health problem with more than 3.6 billion people at risk for dengue virus (DENV) infection and an estimated 390 million infections annually in over 120 tropical and sub-tropical countries. In the absence of truly effective and sustainable vector control measures, a dengue vaccine is urgently needed. The first dengue vaccine was licensed in 2015; the live attenuated recombinant tetravalent vaccine CYD-TDV (Dengvaxia). However, new evidence highlighted the serostatus-dependent vaccine performance of Dengvaxia; a retrospective analysis of clinical trial data, stratifying participants according to their dengue serostatus before the first vaccine dose, revealed an excess risk of severe dengue in seronegative vaccine recipients, while in seropositive vaccine recipients, the vaccine was efficacious and safe.
The WHO recommended a pre-vaccination screening as the preferred strategy as with such a strategy predominantly persons with evidence of a prior dengue infection would be selected to be offered vaccination (based on serological test, or documentation of laboratory confirmed dengue infection in the past. To support the strategy, WHO and many expert panels highlighted the urgent need for rapid diagnostic tests (RDTs) to determine serostatus. To date, no RDT has been licensed for the indication of prior dengue infection status. Pre-vaccination screening strategies will benefit from RDTs that can be performed at point of care (POC), provide rapid test results, are sensitive and specific, as well as inexpensive for use in a population wide program.
Objectives of the meeting
Updates on new clinical data for CYD-TDV
Discuss updates on recent clinical study results
Address the impact of such data in terms of WHO recommendation / guidelines and on field implementation
Screening for prior dengue infection: Rapid diagnostic tests (RDTs) development updates
Discuss RDT Target Product Profile (TPP) development status: where are we and next steps
Updates on RDT development for pre-vaccination screening
Address qualified- RDTs access for countries
Discuss implementation strategies for pre-vaccination screening programs for dengue vaccines
Discuss practical issues for programmatic roll-out and get regional experiences feed-back on CYD-TDV
Address programmatic challenges encountered by countries and the needs required for a successful implementation
Discuss communication strategies with regards to vaccine confidence, both for policy makers, the medical community and the lay public
Discuss cost-effectiveness data and modeling implementation approaches
Discuss Public health strategy for outbreak response
World Dengue Day target and expectations
Target audience
NITAG experts, EPI managers, policy-makers with experience in vaccine introduction, front-line academic and public health scientists with expertise in vaccine introduction and mass vaccination, industry, diagnostics manufacturers, leaders of laboratory networks, regulatory authorities; WHO; CDC.
Download the program