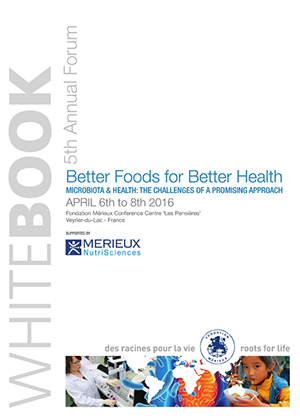 The White Book is based on presentations and discussions held at the symposium from April 8-10 at Les Pensières Conference Center. Organized by Fondation Mérieux with the support of Mérieux NutriSciences, the Better Foods for Better Health forum brought together over 100 global experts from academia, international organizations, NGOs, regulatory authorities and industry.
This 5th Better Foods for Better Health symposium produced a number of messages about the emerging field of microbiota, including:
the therapeutic potential of microbiota based intervention to address obesity,
food, notably dietary fiber, to promote anti-inflammatory mechanisms, supporting the view that diet is the key environmental factor that modulates both gut microbiota and body weight,
deprivation may lead to a "disease-promoting" microbiota and further research is necessary to investigate possible probiotic or prebiotic approaches to address undernutrition.
Food safety and nutrition are major global public health challenges. There is an increasing awareness that good nutrition is key to building and sustaining health and well-being. The "Better Foods for Better Health" series of symposiums is dedicated to sharing the latest scientific developments in nutrition in both developed and developing countries. Valuable insight from industry is provided, placing the consumer at the center of the dialogue between scientific evidence and public policy makers.