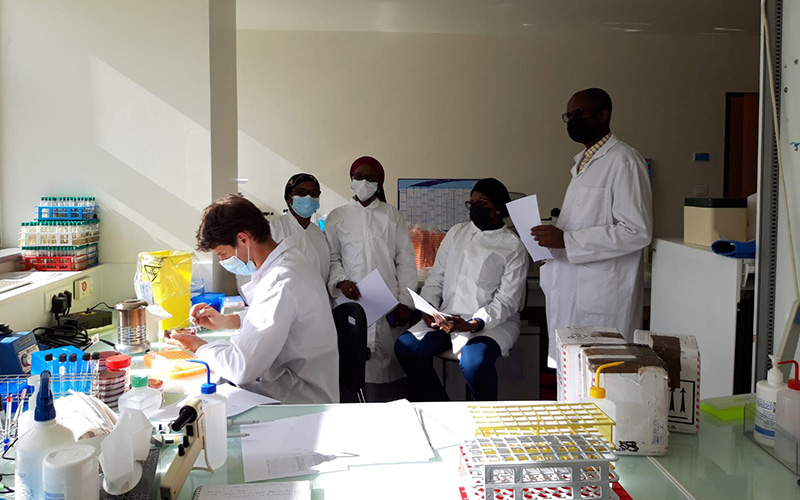 The four participants, laboratory managers and technicians, during the training.
The four participants, all of whom are laboratory managers and technicians, have been following a comprehensive training course since 21 October. The theoretical part of the course is being managed by the Mérieux Foundation, whilst the practical part is taught by ANSES. This training course aims to reinforce local expertise in Next Generation Sequencing (NGS) and bioinformatics.
NGS provides a large amount of information and high resolution for identifying subtypes of pathogenic agents. The use of NGS in surveillance can provide information on the emergence and early spread of antimicrobial resistance (AMR) and provide an alert so that control measures can be introduced.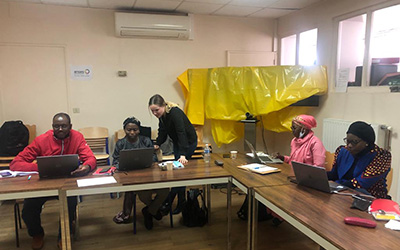 Sequencing data can also provide key information to guide the development of rapid diagnosis systems for the more effective and rapid characterisation of AMR, thus providing an additional method of phenotyping.
Expertise in bioinformatics is essential for being able to analyse all the data generated by NGS.
The training course therefore fulfilled the following objectives:
Understanding the various Next Generation Sequencing (NGS) techniques
Using basic bioinformatics systems with the help of the Galaxy platform
Analysing Illumina and MinION sequencing data on bacterial isolates.
At the end of this session, which finished on 30 October, knowledge assessment questionnaires were handed out in order to assess what the participants had learned.
This initiative is part of the Fellowship Scheme organised by the Fleming Fund, which aims to improve the quality and quantity of antimicrobial resistance surveillance data by using the One Health approach, and to improve the reporting, sharing and use of surveillance data on a local, national and global level. To achieve this, it organises a program of training courses through a mentoring scheme, which aims to enhance the skills of healthcare professionals in microbiology and epidemiology.
This partnership between the Mérieux Foundation and ANSES is one of the national academic collaborations that were launched in 2020. The Foundation has reaffirmed its desire to use local scientific ecosystems to accelerate the transfer of innovation to countries in the Global South and to strengthen research capacity in the countries in which it operates. Strategic collaborations with academic researchers have therefore been established in three main areas, one of which is the partnership with ANSES for AMR.
About the Fleming Fund:
The Fleming Fund is a £265 million UK aid program to tackle antimicrobial resistance (AMR) in 24 low and middle-income countries in Asia and sub-Saharan Africa. The program is managed by the UK Department of Health and Social Care (DHSC), in partnership with the management consultant Mott MacDonald.