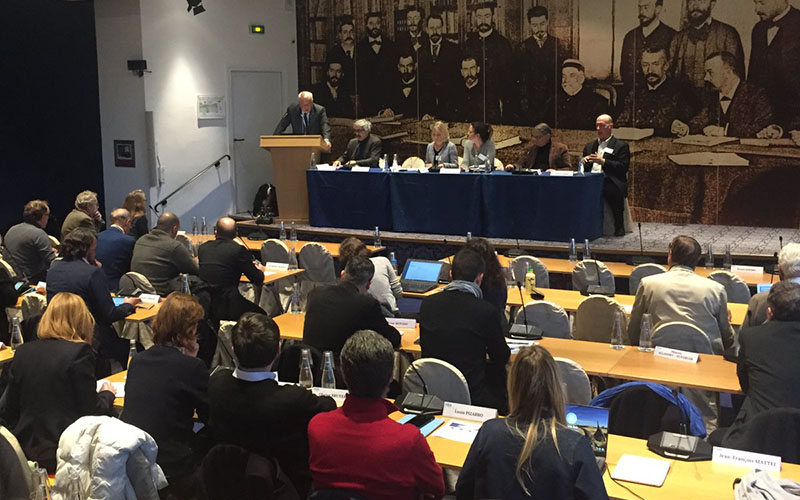 Inspired by the humanitarian action seminars organized in the 1990s by Dr. Charles Mérieux, the "Forum Espace Humanitaire" has provided the leaders of French international solidarity organizations a unique opportunity for informal exchange since 2009. It is also open to private and public partners (French, European and international) as well as to renowned figures, experts and academics who can shed light and share their experiences on a specific theme.
This year's topics include: access to humanitarian aid, the role of the business sector and the distribution of "cash"
Discussions will focus in particular on how to improve access to humanitarian aid for the most vulnerable populations, given the fact that, while available resources and funding have increased linearly over the last decades, needs have grown exponentially. Participants will also discuss the relations between NGOs and the business sector. The role of businesses in humanitarian action – through their CSR policy, their foundations, etc. – marks a turning point in the sector.
The effectiveness of "cash" will also be debated: instead of receiving goods, vulnerable populations are receiving money directly to use as they wish. While "cash" simplifies the aid distribution and guarantees a certain amount of autonomy for beneficiaries, it also opens the door to a new way of diverting aid and raises many questions.
A forum dedicated to representatives of humanitarian organizations, experts and thought leaders
Participants include: Jan Egeland, Secretary General of the Norwegian Refugee Council; Dr. Ahmad Faizal Mohd Perdaus, President of the International Council of Voluntary Agencies (ICVA); Sam Worthington, Chief Executive Officer of InterAction (coordinating the American NGOs); Saran Touré, administrator of REPAOC (Network of West African NGO Platforms); Dr. Inez Kipfer-Didavi, Vice-President of the German association of NGOs, Venro (Verbanb Entwicklungpolitik und Humanitäre Hilfe); and Nicolas Borsinger, President of the European network VOICE (Voluntary Organisations in Cooperation in Emergencies).
The following institutions will also be represented: the U.K. Department for International Development, the Department of International Cooperation of the Principality of Monaco, the Swiss Agency for Development and Cooperation, the Directorate-General for European Civil Protection and Humanitarian Aid Operations, the French Ministry of Europe and Foreign Affairs and UNAIDS.