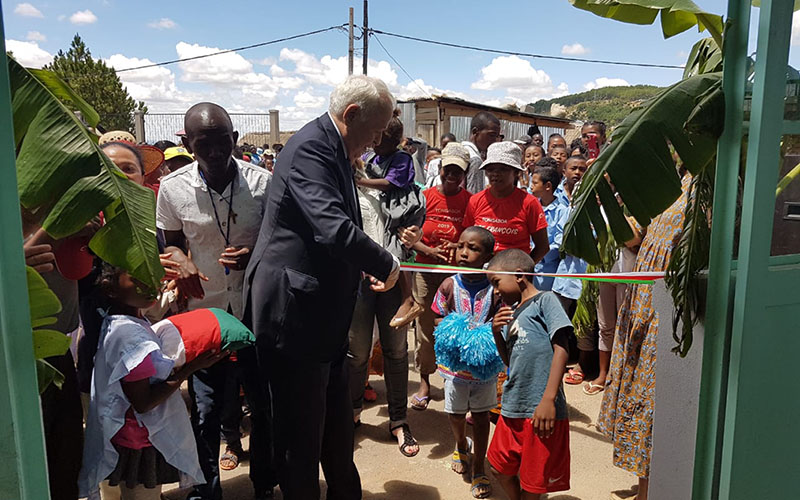 It will be the first high school in this village on the outskirts of Antananarivo. About 50 students are starting their high school education in the new school, which was built as part of a long-standing partnership between the Mérieux Foundation and the Akamasoa "good friends" association, which fights poverty in Madagascar. Fondation Christophe et Rodolphe Mérieux provided funding for the construction.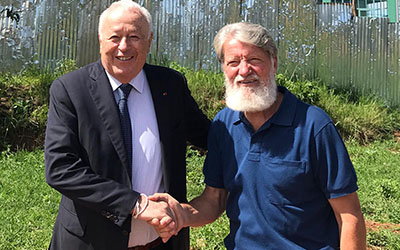 Alain Mérieux, President of the Mérieux Foundation with Father Pedro Opeka, founder of Akamasoa
A delegation from the Mérieux Foundation took part in the inauguration, including Olivia Mérieux, member of the Board of Directors, Jean-Pierre Bosser, Director General, Pascal Vincelot, Director of Operations and the team from the foundation's Madagascar office, headed by Luciana Rakotoarisoa.
Since 2014, the Mérieux Foundation has been contributing to projects to improve the living conditions of the villagers of Akamasoa. It has already enabled the construction of a shelter for the poor, a home for contagious patients in the working-class neighborhood of Mangarivotra and a diagnostic testing laboratory in the village of Manantenasoa, as well as as well as waste containers and water tanks. A program to cover hospitalization costs and care for the destitute has also been in place since 2018.
The Mérieux Foundation also works with Akamasoa to conduct health education programs, deworm children in primary schools, provide soap to improve hygiene and support HIV and syphilis screening for pregnant women.
Find out more about our projects to fight poverty in Madagascar with Akamasoa