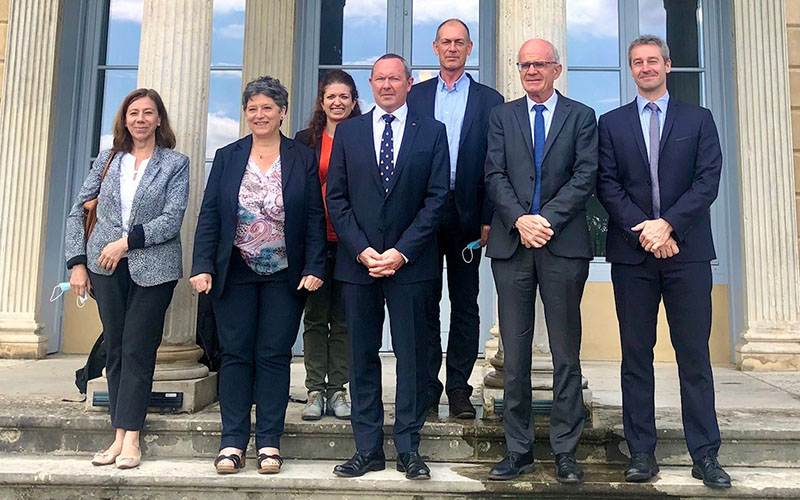 From left to right : Corinne Brunon-Meunier, IRD Deputy Executive Director; Valérie Verdier, IRD CEO ; Cécile Grimaldi, International cooperation director (IRD); Jean-Pierre Bosser, DG of the Mérieux Foundation ; Yves Martin-Prevel, Health Department Director (IRD) ; Marc BONNEVILLE, Medical and Scientific Director (Mérieux Foundation) ; François-Xavier BABIN, Director of International Operations (Mérieux Foundation)
This demonstrates their commitment to sustainable cooperation for research in the field of healthcare in many countries in Southeast Asia, West Africa and Central Africa, in the Indian Ocean, the Caribbean, and Latin America.
The four-year framework agreement was signed on 7 July 2021 by Valérie Verdier, Chairperson and CEO of IRD, and Jean-Pierre Bosser, Director General of the Mérieux Foundation, in the presence of Corinne Brunon-Meunier, Deputy Executive Director of IRD, Yves Martin-Prevel, Director of the IRD's "Health and Societies" Department, Marc Bonneville, Medical & Scientific Director at the Mérieux Foundation, and Dr François-Xavier Babin, Director of International Operations at the Mérieux Foundation. It sets out the following joint actions:
Promoting scientific collaboration in the field of infectious diseases, including major pandemics (HIV, malaria, tuberculosis, coronavirus, etc.) and emerging diseases;
Developing and facilitating exchange programmes for research and training between the two organisations' respective networks, including the reciprocal hosting of personnel and students;
Fostering research in line with shared ethical values, especially focusing on fair partnerships in the Global South, and promoting "One Health" approaches;
Coordinating specific programmes between the Mérieux Foundation and IRD, including in terms of academic education and training, capacity building, and organising events and activities to promote and boost research;
IRD and the Mérieux Foundation both play a key role in healthcare in France, and are able to draw on their shared expertise to tackle public health issues in many countries, including the prevention of infectious diseases.
Motivated by the same common interests, the two institutes work together to prevent and treat tuberculosis, HIV, antimicrobial resistance, hepatitis, coronaviruses, and emerging diseases. At the same time, they are keen to support training in epidemiology, improve health monitoring, and enhance laboratory capabilities in the countries in which they work.
"Renewing the framework agreement with the Mérieux Foundation will make the bonds that unite us even stronger; bonds based on our shared ethical values and concerted efforts to implement public health policy in the Global South and in the regions where we work alongside our partners," explained Valérie Verdier, Chairperson and CEO of IRD.  
"In signing this agreement, we have set out a formal framework for strengthening the partnership forged over many years, out in the field and here in France, by the teams that work at the Mérieux Foundation and IRD. With our complementary expertise and shared principles, we are united in our desire to take action to advance public healthcare, particularly in countries with limited resources, " added Jean-Pierre Bosser, Director General of the Mérieux Foundation.
About IRD
IRD is a French state-funded multidisciplinary research organisation, which plays a key role in France's international development agenda. Its work is founded on a highly original model for developing equitable scientific partnerships with developing countries.
IRD's research priorities are geared toward the implementation of Sustainable Development Goals (SDGs), aiming to support development policy and seek solutions for the major environmental, economic, social, and cultural challenges faced by society and our planet.