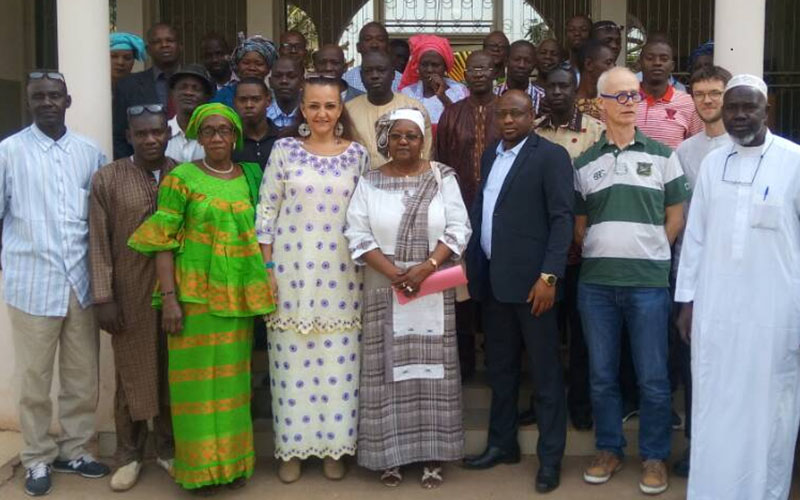 This sixth session was focused on offering teachers trainings on these subjects. Participants included 6th and 7th grade teachers from the seven pilot schools in Bamako; the directors, science counselors, and educational counselors from the Centres d'Animation Pédagogique (Educational Activity Centers); natural and physical science teachers from the Teacher Training Institutes in Bamako and Kati; and representatives from the National Directorates of Pedagogy and Basic Education.
The opening ceremony took place in the presence of Diallo Fadimata Touré, National Director of Teacher Training; Dr. Odile Ouwe Missi Oukem, Acting Executive Director of the Charles Mérieux Center for Infectious Disease and Mali Country Director at the Mérieux Foundation; Dr. Amadou Kone and Adama Maiga, National Coordinator and Educational Coordinator of the project, respectively; and two of the session trainers.
Objective: help improve science and health teaching and raise awareness about health issues
This science and health education project is focused on providing support and professional development to science teachers. The objective is to help teachers implement inquiry-based learning to stimulate scientific thinking, an understanding of the world, and the capacity for expression.
About Fondation La main à la pâte
Created in 2011 by the Academy of Science and the École Normale Supérieure (Paris) and École Normale Supérieure (Lyon), Fondation La main à la pâte aims to improve the quality of science teaching in elementary and middle schools. Fondation La main à la pâte launched its activities in Mali in 2016, at the Initiative of the Mérieux Foundation and in partnership with the Ministry of National Education of Mali and the Charles Mérieux Center for Infectious Disease in Mali.