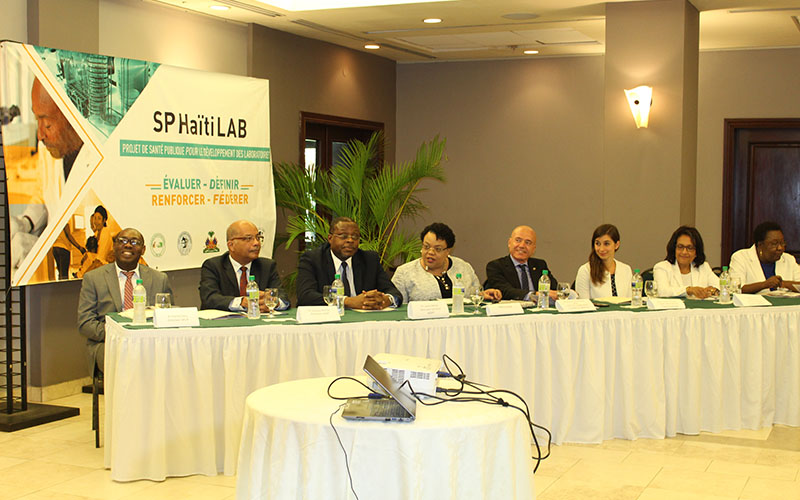 The National Laboratory Policy, developed with the support of the European Union and the Mérieux Foundation, defines all the strategies adopted by the Government of Haiti to improve the services of the country's medical laboratories. It represents Haiti's commitment to ensure its citizens have the necessary means to protect, maintain and restore their health.
Established to ensure the effectiveness of Haiti's health system, the National Laboratory Policy aims to contribute to the diagnosis, surveillance and prevention of diseases, patient monitoring, epidemic management and health research to improve the level of health of the population.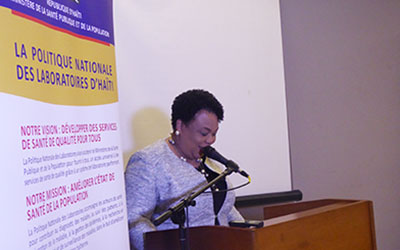 Dr. Marie Gréta Roy Clément, Minister of Health of Haiti
During the official ceremony, Dr. Marie Gréta Roy Clément indicated that "this document will contribute to the harmonious development of the diagnostic sector, and will be the reference framework for present and future stakeholders in this sector". She also added that the policy "will contribute to improving the provision of quality healthcare" and will enable the laboratory sector "to develop to its full potential".
The MSPP General Director, Dr. Lauré Adrien, encouraged "staff members, friends and partners, to implement and enforce the policy and its regulations", and the Director of the Department of Laboratory and Research Epidemiology (DELR), Dr. Patrick Dely, highlighted the importance of the policy's implementation because "diagnosis is an essential step to ensure appropriate and effective patient care".
The MSPP, acutely aware of the importance of diagnostic testing, will take the lead in deploying this National Laboratory Policy, which will be implemented through strategic plans broken down into action plans and overseen by the National Public Health Laboratory (LNSP). Other ministries will be involved in its implementation, which will take a "One Health" approach, integrating human and veterinary medicine.
Download the presentation of the National Laboratory Policy (in French)
Download the National Laboratory Policy (in French)
About SPHaïtiLAB
SPHaïtiLAB's main objective is to improve the health of Haiti's population through analysis and strategic advice on laboratory and research policy, in particular by supporting the MSPP and the LNSP in strategic decision-making and by strengthening the expertise and skills of the LNSP's resources. The project is based on the complementarity of its operational partners: the MSPP, the GHESKIO Centres, the IASP and the Mérieux Foundation.
SPHaïtiLAB is part of the European Union's "Supporting Public Health Institutes Programme". Since 2015, it has supported seven other projects to strengthen the capacities of selected schools of public health throughout the world (Bangladesh, Burundi, DRC, Kenya, Laos, Myanmar, Uganda), thereby providing national health authorities and stakeholders with evidence-based and locally adapted policy advice, training and other support to feed decision- and policy-making and to monitor implementation at national or sub national level.