Context
In view of experiences of the three major pandemics of the modern era – cholera, meningitis and Covid-19, as well as recent threats of epidemics on a global scale, considerable efforts have been made towards providing countries with innovative, high-performance technical platforms for carrying out diagnosis. However, even when these systems are available, health systems, especially in Niger, are struggling to integrate all the necessary components to ensure the continuity of laboratory services. These components include infrastructure, human resources, supplies, process controls, information management and quality control. It can also be difficult for health systems to ensure a link with healthcare personnel in order to provide access to better quality care for patients.
Objectives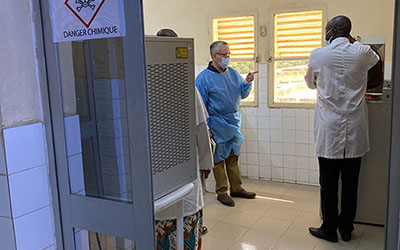 The objective of the Labo 2S project is to help improve access to high-quality healthcare for people living with HIV and people suffering from tuberculosis in Niger.
More specifically, the project aims to enhance the quality and integration of HIV and tuberculosis services in laboratories as part of the continuum of care.
Activities
The Labo 2S project is organised around three main courses of action:
Reinforce the capacities of healthcare teams and patient communities to allow access for people living with HIV (PLHIV) (including exposed infants) and/or people suffering from tuberculosis (TB) to diagnosis and monitoring examinations, and their use to adapt the treatment programmes for these patients.
Consolidate the capacities of technical platforms to guarantee the availability and quality of laboratory services for PLHIV and/or people suffering from TB.
Increase national capacities for the development of an HIV and TB laboratory strategy as part of the healthcare system
The Mérieux Foundation is involved more specifically in the second part of the programme, which is the assessment and reinforcement of the national laboratories of reference on VIH and tuberculosis , the technical support of those laboratories and sample transport.
Results to date
Since the launch of the project, an inventory of the capacities of the national HIV and tuberculosis reference laboratories has been carried out.
Partners
Operational:
Solthis
ANIMAG-TB, the Nigerien association for people who have recovered from TB
Ministry of Public Health for Niger (Healthcare Laboratories Department)
RENIP+, the Nigerien network for people living with HIV/AIDS
Financial:
Expertise France mandated by the AFD