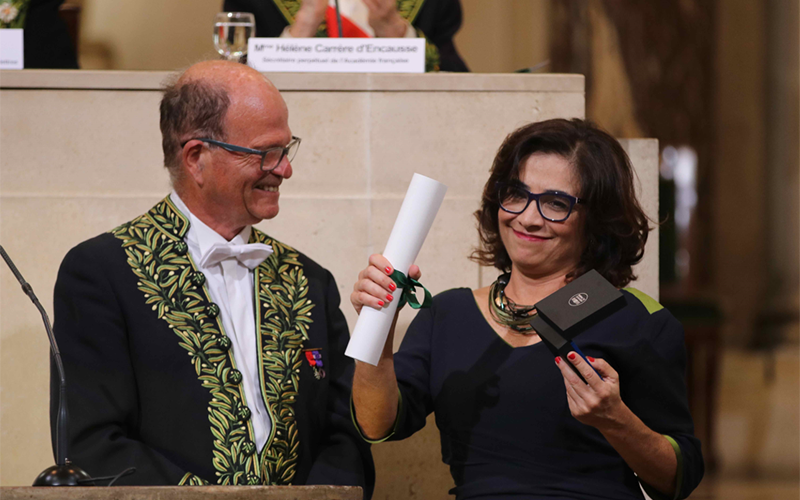 Patricia Brasil, researcher in infectious diseases in Brazil, receiving the 2018 Christophe Mérieux Prize at the Institut de France
This 2018 prize rewards Dr. Patricia Brasil for her study on pregnant women after infection with the Zika virus and neonatal complications. Dr. Patricia Brasil is a researcher and professor of Tropical Medicine and Clinical Research in graduate and postgraduate programs at the Oswaldo Cruz Foundation (Fiocruz), where she created the Febrile Disease Research Clinic at the Evandro Chagas Institute of Clinical Research (IPEC).
Her career has focused on both scientific research and clinical practice, driven by an interest in public service to address the public health challenges facing her country.
Before doing research at the Evandro Chagas Institute of Clinical Research (IPEC), Patricia Brasil practiced medicine at the São Sebastião hospital (Rio de Janeiro), a reference for infectious diseases.
She received a doctorate in science from Fiocruz for her work on the diagnosis of microsporidia in people living with HIV. This followed biology research initiated as part of a Brazil-France cooperation program in the field of AIDS. Through the program, she received training in the diagnosis of AIDS-related opportunistic parasitic and mycological diseases at the Parasitology-Mycology laboratory of Saint-Louis Hospital in Paris.
At the beginning of her career, during her residency in infectious diseases at the Dos Servidores do Estado hospital in Rio de Janeiro, Patricia Brasil went to the Amazon to treat Yanomami suffering from malaria.