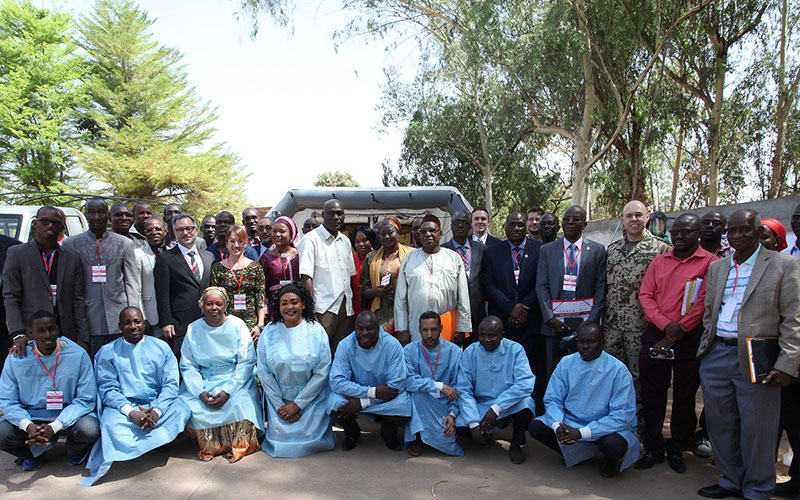 The Ebola outbreak and ensuing crisis has shown that the G5 Sahel countries are not safe from the threat posed by outbreaks of highly pathogenic diseases. This second mobile laboratory is part of the project to create a G5 Sahel Biosecurity Network, in order to deliver an improved response to biological threats, and more efficiently combat epidemics and the emergence of new crises.
Moreover, this mobile laboratory will strengthen epidemiological surveillance in the G5 Sahel area and enable to rapidly diagnose diseases such as Ebola virus disease, Lassa fever, Rift Valley fever, yellow fever, Zika, diphtheria, dengue fever or Crimean-Congo hemorrhagic fever.
A new mobile lab, after a first one given to Mali in 2014
A first mobile lab was provided to Malian authorities in 2014 to strengthen the capacities of their health system to respond to epidemics. Eight Malian scientists were trained in how to use it and maintain the equipment. It is also located at the Charles Mérieux Center for Infectious Disease, a training and research center founded in 2005 through a public-private partnership between the Mérieux Foundation and the Malian government.
Eight scientists (doctors and technicians) from Burkina Faso, Chad, Mauritania and Niger have been trained to use the new mobile lab, with the aim of becoming a rapid intervention team for the G5 Sahel. This training includes:
The use of modern laboratory techniques;
Rapid detection and identification of dangerous pathogens;
Taking into account international biosecurity standards;
Rapid deployment and operation of a mobile laboratory.
Improving epidemiological surveillance in the G5 Sahel
Sékou Oumar Dembélé, technical advisor of the Malian Ministry of Public Health and Hygiene, underlined the importance of this mobile laboratory for improving epidemiological surveillance in the G5 Sahel. He was present at the ceremony along with Dietrich Becker, Germany's ambassador to Mali, Cherif Hamidou Ba, focal point of the G5 Sahel, Professor Ogobara Doumbo, president of the Charles Mérieux Center for Infectious Disease of Mali, and representatives of the project's partners.
Funded by the GIZ (German Federal Enterprise for International Cooperation), the G5 Sahel project is mainly delivered on the ground by the Mérieux Foundation and the Bundeswehr Institute of Microbiology in Munich, as part of the German Partnership Programme for Excellence in Biological and Health Security from the German Ministry of Foreign Affairs.