Context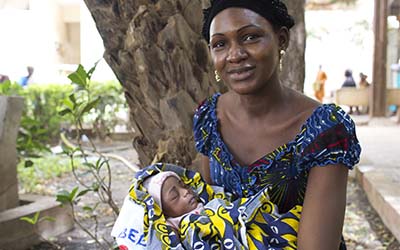 The Ebola outbreak and ensuing crisis has shown that, like all of the Sahel region, Mali is not safe from the threat posed by outbreaks of highly pathogenic diseases and their potentially serious consequences on the health and safety of local communities.
Aim
This project is designed to strengthen the capacities of the Malian health system and improve the response to epidemics triggered by the Ebola virus or any other dangerous pathogen by providing a mobile diagnostic solution – a mobile laboratory of the EM-Lab type.
Activities
Thanks to this project, a fully-equipped mobile laboratory and training were provided to Malian experts and deployment exercises were organized in the field.
All the lab equipment is packed in carrying cases with rollers. It can be transported by car, helicopter or airplane or on a person's back to be deployed in remote areas in the event of an epidemic.
Achievements
The mobile laboratory was officially presented to the Malian Ministry of Health and Public Hygiene in 2014. The Charles Mérieux Center for Infectious Disease in Bamako – a training and research center founded in 2005 through a public-private partnership between the Mérieux Foundation and the Malian government – is in charge of managing the laboratory and of organizing the full program of training and support.
Proving its worth
The value of this mobile laboratory was confirmed when, in December 2014, it was used to diagnose two suspected cases of Ebola at the request of the Emergency Operations Center.
The Center has organized numerous training sessions. Eight Malian scientists were trained in how to use and maintain the equipment so that they could manage the laboratory on their own.
Towards building a G5 Sahel Biosecurity Network
Two exercises to deploy the mobile laboratory were conducted with success in 2016 and 2017. Representatives of the G5 Sahel countries (Burkina Faso, Chad, Mauritania and Niger) participated in the 2017 exercise. Biology experts from the G5 Sahel countries also learned to operate a mobile laboratory in compliance with international standards.
These trainings help to strengthen biosecurity capacities in all G5 Sahel countries and enable Mali to become the centre of the regional biosecurity network for the diagnosis of highly dangerous pathogens.
Partners
Operational:
Bundeswehr Institute of Microbiology
Emergency Operations Center
Coopération française
Funder:
German Partnership Program for Excellence in Biological and Health Security