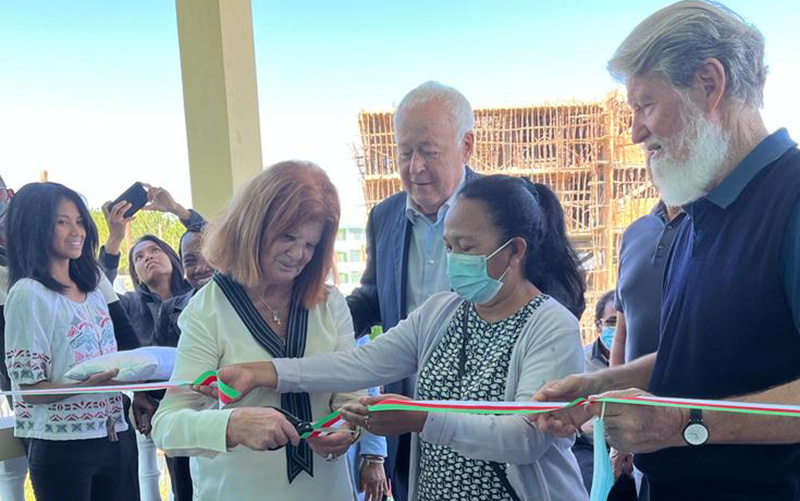 Alain Mérieux, President of the Mérieux Foundation, and Chantal Mérieux, member of the Board of Directors of the Mérieux Foundation, with Father Pedro Opeka, Founder of the Akamasoa association
The new five-storey building in Vohitsara, one of the AKAMASOA association villages, will be able to welcome students in eight classrooms and one large meeting room. This project fits in with the AKAMASOA association's objective of supporting the poorest people in Madagascar, by providing access to education and higher education for young people in the region.
The project has benefited from the financial support of the Fondation Christophe et Rodolphe Mérieux, under the aegis of the Institut de France.
"My dear friend Alain Mérieux, it is an honour to welcome you here. Thirty years ago, I would never have imagined building a university here in AKAMASOA, but the young people in the village give us strength and encourage us to make progress so that we can provide them with the best possible education." said Father Pedro Opeka, founder of the AKAMASOA association.
"We are proud to be able to support you. You give us a great deal more than what we give you. Coming to AKAMASOA to see what you are doing for the future of these young people is an extraordinary source of strength for us." said Alain Mérieux, President of the Mérieux Foundation.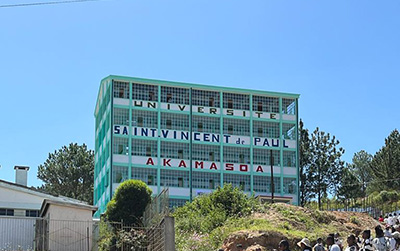 Organised in the presence of Chantal Mérieux, Director of the Mérieux Foundation, Jean-Pierre Bosser, Chief Executive of the Mérieux Foundation, and Pascal Vincelot, Director of Cooperation and Outlook at the Mérieux Foundation, the event continued with speeches in French, Malgasy and English by three students from the village.
Since 2014, with the support of the Fondation Christophe et Rodolphe Mérieux, the Mérieux Foundation has been helping with projects to improve living conditions for the beneficiaries of the AKAMASOA "good friends" association. The Foundation has already helped build a welcome centre for disadvantaged people, housing for people suffering from infectious diseases in the Mangarivotra district, a medical analysis laboratory in the village of Manantenasoa and a high school in Mahatsara. A programme to pay for hospital care and treatment for the poor is also in place.
The Mérieux Foundation also works with Akamasoa on programmes for health education and access to healthcare and hygiene for the poor.