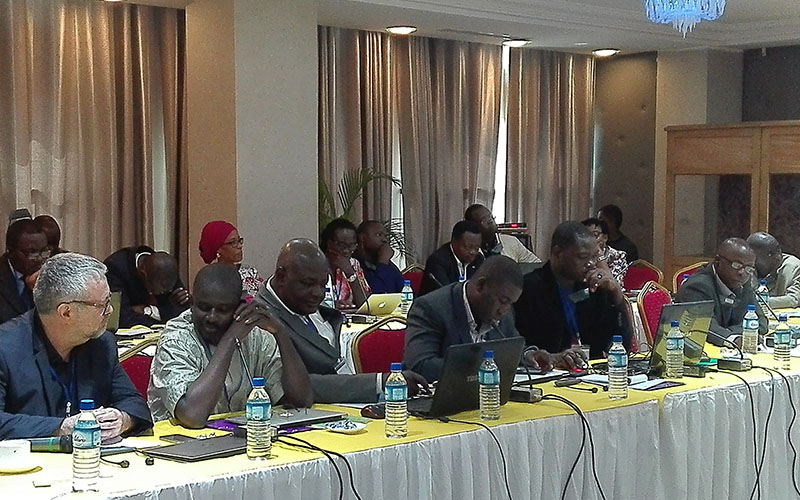 This meeting is held under the high authority of Alassane Seidou, Minister of Public Health in Benin, with participants including the Mérieux Foundation's Director of International Development, Dr. François-Xavier Babin, and Laboratory Network Manager, Dr. Jean-Louis Machuron.
As part of RESAOLAB, the construction of the Directorate of Laboratories and the national Center for Continuous Training is being launched, due for completion in September.
One of the major RESAOLAB activities consists in offering optimized infrastructures to the Ministries of Health in countries belonging to the network, to support the development of an efficient laboratory system.
A section of the building is assigned to external quality assessment and to continuous training of clinical biology lab technicians, who are provided with a classroom and two practical work rooms.
The event will also allow members to draw up a progress review of RESAOLAB and WARDS projects during joint workshops on topics such as training, external quality assessment, and antimicrobial resistance.
As a member of RESAOLAB since 2013, Benin has built a national quality plan, renovated practical work rooms within the Ecole Polytechnique in Abomey-Calavi (EPAC), set up training sessions in equipment maintenance for West African lab technicians at EPAC and drafted both a national policy and a strategic activity plan for clinical biology laboratories for the 2017-2021 period.
Key actions in Benin as part of RESAOLAB
60 laboratories supervised
10 laboratories involved in the External Quality Assessment pilot project led by OneWorld Accuracy since September 2016
2 scholarships given for the Diploma of Specialized Studies in Medical Biology
7 scholarships given for the Bachelor of Applied Medical Science (BAMS) since the beginning of the program
3 laboratory technicians trained in equipment maintenance
27 training sessions on 9 modules
About RESAOLAB
This inter-country West African laboratory network was launched in 2009 by the Mérieux Foundation in collaboration with the ministers of Health of Burkina Faso, Mali and Senegal. Four new countries joined the network in 2013: Benin, Guinea, Niger and Togo. The program is made possible thanks to the support of Agence Française de Développement (AFD), Islamic Development Bank, International Cooperation of the Principality of Monaco, Stavros Niarchos Foundation and Mérieux Foundation. The World Health Organization and the West African Health Organisation (WAHO) collaborate on the program.
Improving the health of populations is dependent upon the quality of the clinical biology laboratory system and the services it provides. RESAOLAB is the first regional program to address this public health issue. Developed with West African healthcare experts, it takes into account all of the factors that affect the governance and performance of laboratories.
It focuses on 6 key objectives:
improve laboratory services by setting up a standardized quality system
strengthen initial and continuing training for laboratory staff
establish a Laboratory Information Management System (LIMS) in the network's main laboratories
contribute to increasing funding for laboratory systems
reinforce national systems for purchasing, maintenance and management of laboratories
improve regional and national governance of laboratory systems.
Results
Over 700 public and private laboratories in the network and under supervision in 7 countries
More than 800 lab technicians trained in over 100 training sessions
45 laboratories equipped with a laboratory information
A skills development program including 14 training modules
More than 25 continuous training centers built or in design phase in 7 countries
More than 200 laboratories with an external quality control program
About WARDS
The World Bank's Africa Catalytic Growth Fund (ACGF) has provided funding of $10 million to support the deployment of the West African Regional Disease Surveillance (WARDS). The ECOWAS has contributed an additional $1.5 million for a total project budget of $11.5 million.
The project, which aims to improve disease surveillance and response in the 15 ECOWAS member states, launched its activities in March 2014 with the recruitment of a team of coordinators and the signature of contracts with six partners (WHO, Centre for International Cooperation in Health and Development (CCISD), University of Oslo, University of Ghana, CDC Foundation and Mérieux Foundation). WARDS seeks to establish, equip and ensure the functioning of 60 epidemiological surveillance centers.
The Mérieux Foundation is coordinating the laboratory component and providing its expertise and technical support to improve the skills of laboratory professionals in all of the ECOWAS countries.
Contacts
RESAOLAB
Fondation Mérieux
Dr Jean-Louis Machuron
Tel: +33 6 11 45 03 59
E-mail: jlmachuron@wanadoo.fr
WARDS
Fondation Mérieux
Dr Josette Najjar
Tel: +33 6 60 38 73 20
E-mail: josette.najjar@fondation-merieux.org
Bénin
RESAOLAB Benin
Bibiane Biokou
E-mail : bibianebiokou@gmail.com
Presse
Fondation Mérieux
Koren Wolman-Tardy
Tel : +33 6 13 94 51 14
E-mail : koren.wolman-tardy@fondation-merieux.org