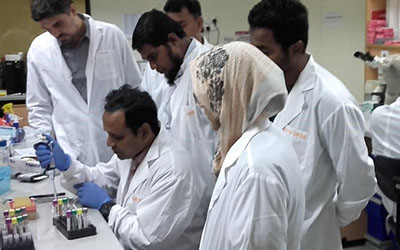 The results of the multi-center study "Association of baseline white blood cell counts with tuberculosis treatment outcome: a prospective multicentered cohort study" conducted by the HINTT project team and led by PhD student at the Emerging Pathogens Laboratory in Lyon, Carole Chedid, has been published in the International Journal of Infectious Diseases.
Tuberculosis (TB) is the leading infectious cause of death in the world. It is widely acknowledged that cheaper and more accessible TB treatment monitoring methods are needed. The authors of the report evaluated white blood cell absolute counts, lymphocyte, and monocyte proportions during treatment for TB, and characterized their association with treatment failure.
The HINTT multicentered prospective cohort study was based in Bangladesh, Georgia, Lebanon, Madagascar, and Paraguay and was conducted between December 2017 and August 2020. Adult, non-immunocompromised patients with culture confirmed pulmonary TB were included and followed up after two months of treatment and at the end of therapy. Blood counts were compared to treatment outcome using descriptive statistics, logistic regression, and Receiver Operating Characteristic analyses.
About HINTT
The HINTT project, for HBHA-IGRA New Tool for Tuberculosis, is a multi-center study on tuberculosis drug efficacy. Launched in late 2017, it aims to address the rise in the number of people abandoning tuberculosis treatment because of the severe side effects of the four drug combination recommended by WHO. These drop-outs hinder efforts to slow the epidemic spread—especially for multidrug-resistant strains that require lengthy and particularly harsh treatments.
The multi-center study, designed by the GABRIEL network, aims to identify biomarkers that can predict treatment efficacy in order to anticipate how patients will respond and to provide effective support – encouraging them to continue their course of treatment despite the side effects, or changing the treatment regimen. The research will help to improve the cure rate and reduce the acquisition of multidrug-resistant forms of the disease.