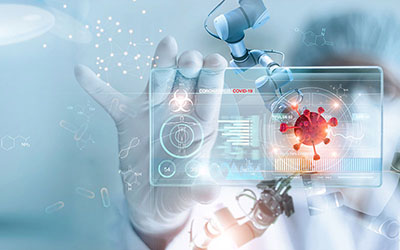 What is the role played by diagnostics in the management of an epidemic like the COVID-19 epidemic we are currently dealing with? To respond to this question, presentations were made over three days by international experts in diagnostics and attended remotely by 622 people from 85 different countries.
"Not having any diagnostics is very bad, but having bad diagnostics is even worse. We must continue to make progress so that we can ensure quality diagnostics are available worldwide," said Dr. Jeremy Farrar, Director of the Wellcome Trust.
This conference underlined the importance of having advanced diagnostic tests to detect, trace and control pandemics such as the COVID-19 pandemic, and to enhance the capacity of countries to ensure access to diagnostic tests and allow their rapid and efficient introduction. 
The seminar was also the occasion to broach the critical role played by diagnostic tests in the detection and monitoring of new variants of COVID-19, and to understand how diagnostics can support the development and deployment of vaccines in response to COVID-19.
The sharing of experiences between different countries was a reminder of the need for global partnerships and collaborations to shape healthcare systems that are more equitable and more resilient for everyone.
Watch the replay of the webinar presentations
Our thanks to the speakers:
Prof. Rosanna Peeling, London School of Hygiene and Tropical Disease, UK
Prof .David Heymann, London School of Hygiene and Tropical Disease, UK
Dr . Mark Perkins, WHO, Switzerland
Mr. Carlos Eduardo Gouvea, Latin American Alliance for the Development of In Vitro Diagnostics, Brazil
Dr. Yenew Kebede Tebeje, Africa CDC, Ethiopia
Dr. Ava Kristy Sy Lee, Research Institute for Tropical Medicine, Philippines
Jaime Montoya, Council for Health Research and Development, Philippines
Dr. Joseph Tucker, London School of Hygiene and Tropical Disease, UK
Dr. Justen Manasa, University of Zimbabwe, Zimbabwe
Dr. William Waites, London School of Hygiene and Tropical Disease, UK
Dr. Gaurav Dave, Center for Health Equity Research (CHER), USA
Dr. Lorenzo Subissi, WHO, Switzerland
Dr. Alexandre Costa, UNICEF; USA
Dr. Pascale Ondoa, ASLM, Netherlands
Dr. Jacques Boncy, Director of the National Public Health Laboratory, Haiti
Dr. Laurence Baril, Institut Pasteur du Cambodge, Cambodia
Dr. Sergio Carmona, FIND, Switzerland
Amy Toporowski, FIND, Switzerland
Dr. Sébastien Cognat, WHO, France
Dr. Martine Guillerm, Global Fund, Switzerland
Dr. Jilian Sacks, FIND, Switzerland
Dr. Joanna Wiecek, Wellcome Trust, UK
Dr. François-Xavier Babin, Mérieux Foundation, France
Dr. Jeremy Farrar, Wellcome Trust, UK
Dr. Yukari Manabe, Johns Hopkins University, USA
Dr. John Nkengasong, Africa CDC, Ethiopia
All the resources linked with this event (programme, presentations, videos, speakers' biographies, etc.) are available from the Moodle platform for all those who signed up for this seminar.
This event was organised ahead of the 11th edition of the Advanced Course on Diagnostics (ACDx) scheduled to run from 12 to 17 September 2021.
Our special thanks to bioMérieux and Cepheid for their financial support for the organisation of this special COVID-19 edition of ACDx.