Context
According to the UNHCR, Lebanon has the highest density of refugees per inhabitant in the world. This country of 4 million inhabitants hosts 178 refugees for every 1000 inhabitants, which represents a total of approximately 1.3 to 1.8 million people.
Though distributed throughout the various regions in the country, most of them are living in Akkar and in the Beqaa Valley, along the border with Syria.  This rural region of Lebanon covers 4,000 kilometres (2,500 miles) and has a particularly weak infrastructure, particularly in terms of healthcare.
The refugees, most of whom are women and children, live in precarious conditions, with little access to traditional housing. Their medical care also remains insufficient in terms of geographical coverage.
Objectives
As part of the United Nations Strategic Framework for Lebanon 2017-2020, we have set up a project for the construction and operation of a community health centre for mothers and their children in Duris, in the Governorate of Baalbek-Hermel in the Beqaa Valley.
This project aims to improve access to healthcare for isolated and refugee populations in the region. The centre provides care for patients or directs them towards secondary or tertiary health structures.
Activities
The ground floor of the health centre has already been built and was opened in June 2019. The Lebanese NGO Amel Association manages the centre. The centre provides medical care for women thanks to its gynaecology and obstetrics unit, as well as a paediatrics unit for children, and is accessible to the entire population of Duris. Sessions to teach patients about the best everyday practices to adopt are also organised at the centre, allowing improvements to be made in the health and hygiene habits of these populations.
A second phase of the project has begun to build and equip the first floor of the centre, which will allow the provision of health education modules and additional care, particularly in mental health, childcare and chronic diseases.
Fight against COVID-19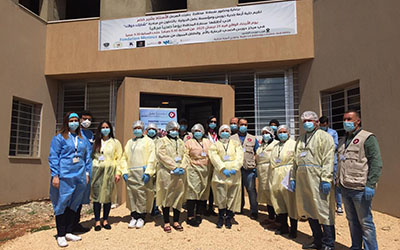 The centre has played a central role in the fight against Covid-19 in the region and has recorded a high level of activity. Almost 2,500 consultations took place between March and December 2020 across all specialist areas, and the centre has organised several events (Free Health Day, testing in refugee camps, etc.) dedicated to the fight against Covid-19.
Partners
Financial
Department of International Cooperation of the Principality of Monaco
Fondation Christophe et Rodolphe Mérieux
Exceptional donation from bioMérieux dividends in 2020
Operational
Amel Association
Ministry of Public Health Lebanon
Governorate of Baalbek-Hermel
Municipality of Duris