Context
According to UNAIDS estimates, the number of people living with HIV (PLHIV) in Madagascar in 2019 was 39,000. Of those, only 5,700 knew their serological status, with 5,200 benefiting from antiretroviral therapy (ART) and 1,976 already having had access to at least one HIV RNA viral load test.
Coverage of viral load testing currently only fulfils 39% of requirements. Thanks to the work of the National Programme and the support of the Global Fund and other financial partners, the number of people living with HIV who are aware of their status and benefit from antiretroviral treatment is continuing to increase.
The EVAMAD project was set up for a duration of three years to secure and expand coverage of the HIV RNA viral load test to the entire island and therefore make a wider contribution to reaching the 95-95-95 targets set by UNAIDS, in particular the objective of 95% of people receiving antiretroviral (RNA) treatment having an undetectable viral load.
Objectives
The objective of the EVAMAD project is to improve the management of the virus for people living with HIV (PLHIV) in Madagascar, by gradually scaling up access to RNA/DNA viral load testing and by making a long-term contribution towards strengthening the health system in Madagascar.
This mission covers three specific objectives:
Boost access to routine HIV viral load testing in Madagascar
Develop access to emergency HIV viral load testing in Madagascar
Contribute towards improving the viral suppression rate with ART 
Activities
In order to achieve these objectives, the project is involved in setting up new circuits for taking HIV viral load samples, in addition to existing circuits, mainly by joining these together by opening regional circuits.
The project also relies on the national programme for dealing with TB in order to carry out emergency viral load tests, in particular for pregnant women living with HIV and for early diagnosis amongst newborn babies.
The project also focusses on providing continuous training for prescribing practitioners, biologists, and associations, by organising meetings, developing and distributing guidelines and monitoring HIV viral load testing at each different site.
Supporting the fight against COVID-19
To support Madagascar's efforts in dealing with the COVID-19 pandemic, the EVAMAD project has benefited from an additional grant from Expertise France, enabling it to adapt its activities to the context of the crisis.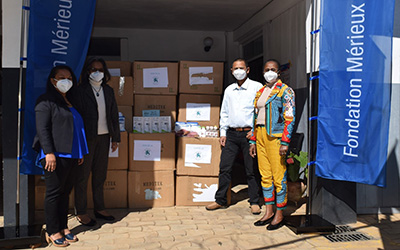 HIV healthcare staff and people living with HIV have been provided with personal protection equipment (PPE), including 4000 FFP1 masks, 3000 FFP2 masks, 20,000 100ml bottles of hydroalcoholic gel and 20 thermometers. A study has also begun into HIV/COVID-19 co-infection.
Partners
Operational partners
Ministry of Public Health:

Department of contagious diseases
National programme for dealing with HIV/Aids
National programme for dealing with TB

Medical Analysis Laboratory of Madagascar
Charles Mérieux Centre of Infectiology
SE/CNLS
MAD'AIDS
RESAMAD
UNAIDS
Financial
Expertise France
Mérieux Foundation