Context
The epidemic triggered by the Ebola virus in 2014-2016 revealed the urgent need for Guinea to improve:
Surveillance of diseases with epidemic potential;
The capacity to respond to epidemics in order to better address future threats.
Aims
Develop an action plan, alongside national authorities, after taking stock of laboratories and their needs;
Strengthen laboratory capacities to provide quality diagnoses and set up a national surveillance system for viral hemorrhagic fevers.
Activities
The LAB-NET project was launched April 2015 when national and international expert teams undertook an assessment of traditional medical analysis laboratories in collaboration with the Ministry of Health. Their evaluation served a dual purpose, highlighting needs of this health sector and establishing a map of the laboratories.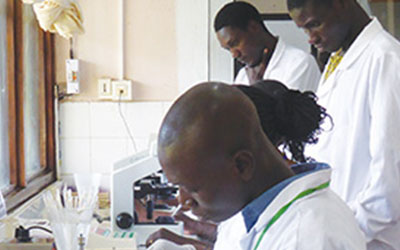 The teams use a grid to ensure objective data collection during the assessment. Their preliminary results are reported on a regular basis to key health stakeholders in Guinea. In addition, Guinean biologists/technicians monitor the laboratories and the results with the help of international technical assistants.
Based on the evaluation, the Mérieux Foundation provides its support and expertise to the Ministry of Health and the National Directorate of Pharmacy and Laboratory to define a national medical biology policy and an action plan for the national health authorities as well as international partners.
The main challenges to be addressed include developing an official channel to send biological samples to the reference center, ensuring quality control and organizing a training program.
LAB-NET provides personal protective equipment kits and safe collection boxes for sentinel health facilities, as well as training for laboratory personnel in collaboration with other programs, such as RESAOLAB. It also plans to improve the equipment and materials.
Achievements
105 +
laboratories evaluated
More than 105 laboratories have been assessed, including the Army Health Service laboratories, and labs working for the mining companies and private laboratories. Other achievements include a quantitative data analysis, recommendations for action, and a train-the-trainers session. Personal protective equipment kits, safe collection boxes and small daily consumables for the laboratory were purchased and distributed in the laboratories, in partnership with the Central Pharmacy of Guinea.
More than 322 people were trained in biosecurity and sample referencing and 55 people received IATA-certified training on the transport of infectious substances. A training on external quality assessment was also provided to 20 people.
Furthermore, LAB-NET has signed an agreement with International Medical Corps to work on developing a map to show the laboratories and their different levels of expertise. This map was migrated from the ArcGis software to the free and open source DHIS2 platform, in collaboration with SAVICS and the Guinean Ministry of Health's Bureau of Strategies and Development.
Partners
Operational:
Ministry of Health of Guinea (National Directorate of Laboratories)
Funder:
Department of Foreign Affairs and International Development