Context
A clinical biology system that provides high-quality services is essential to improve public health, yet diagnostics is the field that has received the least multilateral aid and government funding in recent decades.
The West African Network of Biomedical Analysis Laboratories (RESAOLAB) is the first regional program in West Africa to respond to this public health challenge.
Designed in collaboration with West African health professionals and the health ministries of member countries, it addresses all factors affecting how the governance and performance of laboratories are run and how they perform. RESAOLAB is part of the regional health policy established by the West African Health Organization (WAHO).
RESAOLAB was launched in 2009 by the Mérieux Foundation in partnership with Burkina Faso, Mali and Senegal. Four countries joined the network in 2013: Benin, Guinea, Niger and Togo.
Aims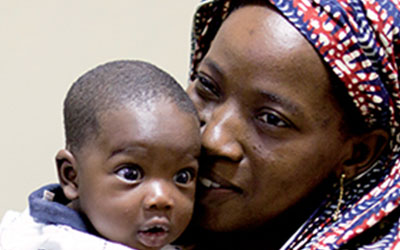 RESAOLAB aims to improve the quality of biomedical services in seven West African countries, by strengthening their laboratory systems through a regional approach.
Activities
The program is run in close partnership with the ministries of health of the seven member countries and focuses on six key areas:
Improve laboratory services by setting up a standardized quality system;
Strengthen initial training and continuing education for laboratory staff;
Establish a Laboratory Information Management System (LIMS) in the network's main laboratories;
Improve national systems for laboratory purchasing, maintenance and management, taking a regional approach;
Help increase funding for laboratory systems;
Improve regional and national governance of laboratory systems.
Operational units within each ministry are responsible for implementing the program's initiatives. An International Steering Committee pilots the project and meets once a year in one of the member countries. In parallel to this meeting, workshops are organized for all participants so they can suggest initiatives related to biomedicine and decide how to implement them.
Achievements
Since it was created in 2009, RESAOLAB has paved the way for important programs on continuous training, the construction and equipment of training and quality control laboratories, epidemiological surveillance tools, and an inter-country network.
1,000 +
public and private laboratories brought into the network in the seven member countries
700 +
public and private laboratories supervised
1,000 +
laboratory technicians trained during 100 training sessions
14
training modules as part of a skills development program
20
continuous training centers built
4
laboratory directorates built and equipped
20 +
scholarships for a bachelor's degree in biological and applied medical sciences (BAMS Mali)
30 +
scholarships for a degree (diplôme d'études spécialisées) in medical biology
200 +
laboratories with an external quality assessment program
Laboratory Policy
Four laboratory directorates have been built and fully equipped, and three are currently under construction. They contribute to the implementation of national policies for laboratory supervision and coordinate clinical biology laboratory activities, assess the quality of analyses and provide guidance on staff training courses when necessary.
The Mérieux Foundation has also developed a Laboratory Information Management System (LIMS), with the aim of improving epidemiological surveillance by collecting and transmitting laboratory data to national agencies on a regular basis.
Furthermore, in May 2016, the RESAOLAB association was created in Ouagadougou (Burkina Faso). As it develops, this independent association of laboratory professionals will ultimately become a forum for discussion and recommendations, working closely with WAHO.
Diagnostic quality assessment
Thanks to laboratory supervision, assessments of laboratory infrastructure, equipment and training can be undertaken. This, in turn, facilitates the mapping of all the laboratories in each country and allows the laboratories to be supported in implementing a quality process.
External quality assessment makes it possible to compare a laboratory's analysis results with an external reference in order to objectively evaluate the quality of analyses. More than 200 laboratories have taken part in an external quality assessment program.
In 2016, an external quality assessment program was set up with the OneWorld Accuracy specialized consultancy: in each RESAOLAB country and in Gambia, Ghana and Nigeria (three WARDS countries), ten laboratories were selected by the laboratory directorates to receive and analyze samples. The results were then analyzed and returned to each country to provide the laboratories with an external interpretation of their results and allow for corrective actions to improve the quality of analyses.
Partners
Operational:
West African Health Organization (WAHO);
WHO-AFRO.
Financial:
Agence Française de Développement;
Department of International Cooperation of the Principality of Monaco;
Islamic Development Bank;
Mérieux Foundation;
Stavros Niarchos Foundation.