Context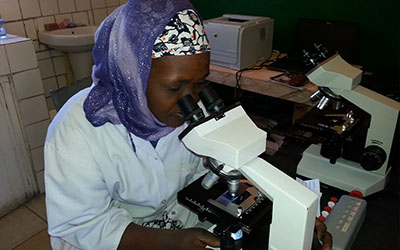 Through our LABOMEDCAMP country laboratory project, we are helping to improve medical care for rural populations. By setting up laboratories for diagnostic testing, patients in rural communities are able to receive a rapid and reliable diagnosis. The country laboratories we are creating are also an essential resource for doctors who treat patients living far from urban centers.
Aim
Our goal is to improve the quality of healthcare for populations in rural areas of Mali, especially mothers and children, through quality diagnostics and biological monitoring provided by first-line laboratories located in community health centers, managed by doctors.
Activities
Through the LABOMEDCAMP project to establish diagnostic testing laboratories in community health centers, we:
Strengthen the capacities of laboratory technicians and doctors working in community health centers
Bring laboratory equipment and biosafety conditions up to current standards
Help these first-line laboratories become active in the national laboratory network
Achievements
The first phase of the project started in 2011 when 10 new laboratories were established in 10 community health centers, located in the Kayes, Koulikoro and Ségou regions. This helped improve the quality of diagnostics and, thus, the medical care for the rural populations.
After supervising the quality of diagnostic testing performed in the laboratories, the project proposed continuous training for laboratory technicians in 2014 as part of the RESAOLAB network's Ebola crisis management. The 10 laboratories also joined the national system for quality control and epidemiological surveillance.
Based on the success of this first phase, the partners decided to launch the second phase of the project in 2017 to:
Continue laboratory activities begun during the first phase;
Expand the initiative by setting up eight new laboratories in the Kayes, Koulikoro, Ségou and Sikasso regions.
In 2018, laboratory technicians and doctors were trained on the basic laboratory testing techniques, at the Charles Mérieux Center for Infectious Disease in Bamako.
Partners
Operational:
Rural Doctors Association
Funder: