Access to viral load testing
For people who are living with HIV, close monitoring is essential to decrease the number of treatment failures. It also helps reduce the risk of resistance to first-line antiretroviral treatment, contributes to slowing HIV transmission and limits the risk of spreading drug-resistant HIV.
Although in recent years, access to antiretroviral treatment (ART) has improved, diagnostic infrastructures have not always kept pace: facilities, equipment, reagents and training of laboratory personnel are often lacking or inadequate. This is especially the case in low- and middle-income countries. For people living with HIV (PLHIV) who are far from urban centers, access to viral load testing (VLT) is often extremely limited.
Our approach
When we organize programs to strengthen diagnostic capacities for HIV viral load monitoring, we also improve the diagnosis of infectious diseases among people living with HIV, who are particularly vulnerable to opportunistic infections.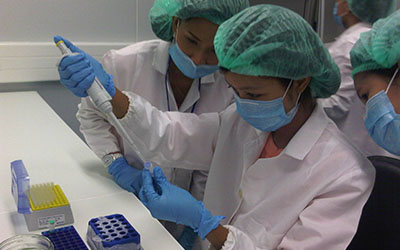 The laboratories that we build and equip, the personnel we train, and the systems we put in place for quality management and transporting samples are important not only because they contribute to better care for people living with HIV – they also make a lasting impact to create stronger health systems.
We work closely with local partners – health authorities, associations, NGOs, and other organizations – to ensure local ownership of the programs we support.
Our support for VLT programs
In Laos, Madagascar and Myanmar, the foundation's support for programs to improve access to HIV VLT contributes to reaching the UNAIDS 90-90-90 target for 2020, in particular to achieve viral suppression for 90% of all people receiving antiretroviral therapy.
Laos: National reference center for HIV testing
In Laos, it is estimated that between 11,000-14,000 people are living with HIV, among whom 6,500 receive antiretroviral therapy. The viral suppression rate already reaches 86.1%. Among the PLHIV population, 7,766 have access to VLT for whom 36,225 VLT have been performed since 2009 (an average of 4.7/person).
The Center of Infectiology Lao Christophe Mérieux in Vientiane is the national reference center that performs viral load and antiretroviral susceptibility testing for all people living with HIV in Laos. It receives samples from other treatment facilities, thanks to a partnership with the National HIV Program (CHAS) and support from the Global Fund.
This center is the first laboratory in Laos to receive accreditation for ISO 15189:2012 and ISO 15190:2003 standards for HIV viral load testing.
In addition to supporting these activities at the center, we are helping to set up the clinical laboratory at the Bolikhamxay Province hospital and train the laboratory staff there.
Madagascar: Expanding access to VLT
An estimated 39,000 people in Madagascar are living with HIV and only about 3,500 (8.97%) receive antiretroviral therapy. Around 1,500 have had access to VLT at least once.
In 2015, in partnership with Expertise France, the Charles Mérieux Center for Infectious Disease of Madagascar set up the only platform in the country conducting HIV viral load for routine diagnosis.
Along with Expertise France and other partners, we support the "Expanding access to HIV viral load testing and strengthening the health system in Madagascar" initiative. The project strategy focuses on opening up new VLT circuits and increasing access to emergency viral load testing by sharing point-of-care systems belonging to the National TB Control Program, which is also expected to reduce mother-child transmission of HIV.
Myanmar: 95% of all viral load testing performed by our platforms 2012-2018
An estimated 220,000 people were living with HIV in Myanmar in 2017, according to UNAIDS. Around 127,000 people currently receive antiretroviral therapy, half of whom are monitored by NGOs. Around 70,000 have had access to viral load testing.
The foundation set up the first 3 platforms in Myanmar to measure HIV viral load and from 2012 to 2018 they performed 95% of all VLT in the country (78,902 VLT performed for 49,350 PLHIV).
Along with local health authorities and other partners, we renovated and equipped the 3 platforms, located in Mandalay, Yangon and Dawei. After transferring technology and providing training for the staff, we continue to improve facilities and equipment, and provide day-to-day support. We measure the viral load of patients receiving care from our partners, MSF and The Union.
The foundation has opened a second office in Yangon and recruited a team of local experts to oversee a new project to expand access to viral load testing and create a country-wide network of specialized laboratories.
LabMyNet
The Laboratory Myanmar Network project, launched in June 2018, is targeting at least 80% viral load coverage. By making use of existing (integrated and open) HIV viral load testing platforms, with support from the National Health Laboratory (NHL), the project aims to maximize VLT on all platforms and increase demand for VLT, in collaboration with the National AIDS program. LabMyNet also aims to build the NHL's capacity to lead a national network of laboratories running HIV viral load testing.