Context
Since the outbreak of the crisis in Iraq and Syria in 2014, the Mérieux Foundation has been active in assisting displaced populations, in particular mothers and children. One of our focuses is to rebuild schools for children who are displaced due to conflict and war. In Northern Iraq, Islamic State militants targeted and destroyed schools as symbols of education, freedom and equality between girls and boys. After the towns were liberated, it was important for schools and public services to be re-opened to create the conditions for displaced groups to return.
Aim
For children who have been forced from their homes and displaced by conflict and war, attending school helps provide stability, protection and a means to prepare the future. The foundation's initiatives alongside several partner organizations to rebuild schools in Iraq aim to ensure that refugee and displaced children in Erbil and Qaraqosh can continue their education.
Activities
After helping rebuild Saint Irénée School in Erbil, which opened its doors in 2015, we launched the project to rebuild the school in Qaraqosh in 2018.
Erbil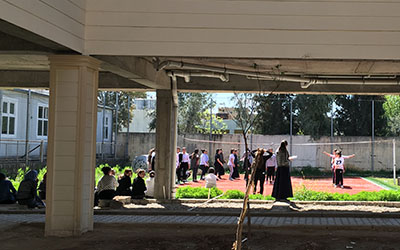 Local companies took part in the school project in Erbil, capital city of Iraqi Kurdistan. Displaced persons from the refugee camps were hired to build the school and teach classes when it opened in 2015.
Qaraqosh
After the Mérieux Foundation was approached by regional authorities to rebuild the school in Qaraqosh, in 2017, education officials and local authorities carried out an assessment to identify needs: infrastructure, facilities and school programs. The blueprints for all the country's primary and secondary schools were provided by the central government since all national schools are built on the same design. As with the Erbil school, local businesses took part in the reconstruction.
Results to date
Erbil
Currently 1,200 Arab-speaking children attend the Saint Irénée School in Erbil. The school has been equipped with:
18 classrooms
A library
A laboratory
A teachers' room
A computer room
In 2016, a playing field was inaugurated for sports and other activities.
What's next?
Qaraqosh
Following several delays in 2018, work in 2019 work is under way to:
Destroy existing buildings
Remove several dozen tons of rubble and debris
Rebuild the school facilities
The Qaraqosh public school is part of the national school system; teachers are civil servants working for the Iraqi Ministry of Education, which will provide school and office furniture.
Partners
Operational:
Local businesses
Iraqi Ministry of Education
Hamourabi Association
Financial:
AnBer Foundation
Auvergne-Rhône-Alpes Region
Fondation Christophe et Rodolphe Mérieux
Ile de France Region
Raoul Follereau Foundation
Saint-Irénée Foundation