The meeting took place at Bravia Hotel Niamey and was attended by members and partners of the Technical Working Group, including technical departments from One Health ministries, National Reference Laboratories (NRL), the army health service, vertical programs (malaria, HIV, TB), the World Health Organization, the Global Fund management service, Solthis, Davycas, the Bill & Melinda Gates Foundation, Epicentre – MSF (Doctors Without Borders), etc.
The mission of this multisectoral group is to support the Department of Healthcare Laboratories in Niger as it carries out its assignments and prerogatives, as part of a One Health approach.
This first meeting was the ideal occasion for the 35 participants to present the missions, composition, organization, and operation of the Technical Working Group. It also enabled a small team responsible for preparatory work to learn about the players, roles, responsibilities, and priorities of the SITEB integrated system for the transport of biological samples, in compliance with the road map introduced in January 2023 thanks to the support of the West African Health Organization (WAHO) through the PROALAB project, for which the Mérieux Foundation is also a partner.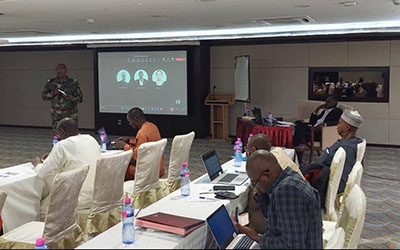 Capitaine Bello, Head of Healthcare Service Laboratories for the Niger Armed Forces, sharing feedback on their use of LabBook
The various presentations, document reviews, and plenary discussions led to the technical validation of the specifications for the national laboratory information strategy.
Captain Bello, Head of Healthcare Service Laboratories for the Niger Armed Forces, shared feedback on their use since 2018 of LabBook, the laboratory data management software developed by the Mérieux Foundation.
The Laboratory Technical Working Group was formed on the initiative of the Ministry of Public Health, Population, and Social Affairs in Niger to develop a healthcare system capable of providing high-quality healthcare, accessible to the country's entire population. Established under the authority of the Department of Healthcare Laboratories, the missions of the Technical Working Group include defining priorities for biomedical analysis laboratories, helping to produce, validate, and publish strategic documents (policies, strategies, procedures, etc.) and ensuring the implementation of action plans to reinforce biomedical analysis laboratories.
About Labo2S
The objective of the Laboratories Serving Health project, Labo2S, is to help improve access to high-quality healthcare, particularly for people living with HIV and people suffering from tuberculosis in Niger, thanks to support for the initiative. The Mérieux Foundation is involved in the evaluation and reinforcement of the National Reference Laboratory (NRL) for HIV and the NRL for TB, providing technical support for these laboratories and the transport of samples.