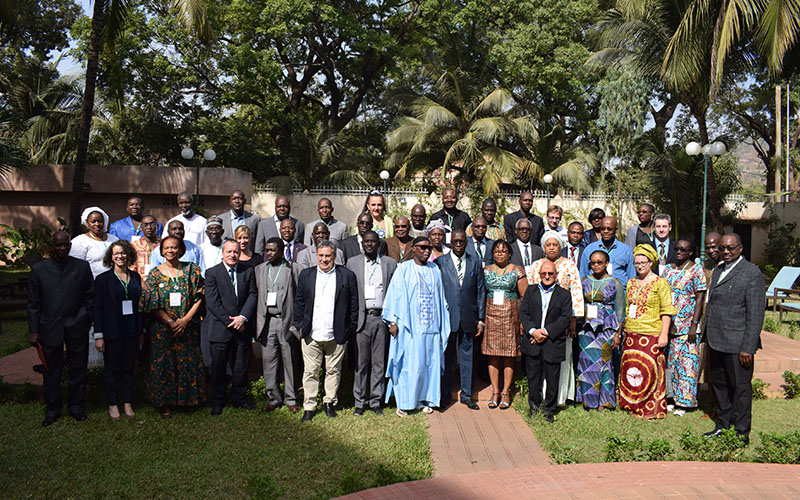 During these two days dedicated to the laboratory domain, nearly 60 participants, including major medical biology players from Benin, Burkina Faso, Guinea, Mali, Niger, Senegal and Togo met in Bamako's Azalai Grand Hotel. The committee meeting was attended by the Technical Advisor of Mali's ministry of Public Health and Hygiene, Dr. Milleliri, representative of the French Embassy, Adrien Absolu, representative of the French Development Agency, Cécile Dakouo, of Monaco's Department of International Cooperation and Benoit Miribel, the Managing Director of the Mérieux Foundation.
Summary of the second phase of the project (2013-2017)
Phase 2 of RESAOLAB involved the promotion of efforts made in the laboratory sector, primarily through the creation of 3 laboratory departments.
The project also contributed to the implementation of 7 quality plans, the supervision of nearly 1,000 laboratories and educational support via the development of scholarships (more than 130 scholarships between 2013 and 2017), and courses (217 continuing education sessions). Educational tools were also developed: 13 e-learning modules developed over the past 4 years.
To facilitate data management, RESAOLAB supported the implementation of LabBook, a laboratory information management system (LIMS), in all 7 countries and trained 63 people in its use.
In every member country, RESAOLAB initiated proactive measures in favor of laboratories, such as the mapping of laboratories, the development of strategic plans and policies for laboratories or reflections on sample referencing.
These fundamentals put in place during phase 2 made it possible to kick start initiatives, the impact and duration of which exceed the project itself.
RESAOLAB continuation: from project to program
Following each representative's presentation of the future of RESAOLAB in their country and their strategy for continuing to build on the project's achievements, the members decided to proceed with RESAOLAB and its numerous national and regional effects.
To complete this vision of new challenges to be overcome, a workshop on antimicrobial resistance was organized for the participants. This workshop raised the participants' awareness of the need to create a resistance observatory in West Africa, a project already supported within the program by Dr. Abdoul-Salam Ouedraogo and Pr. Salou Mounerou, two young researchers who received the Young Investigator Award from Institut Mérieux. With this in mind, links were established with the African Society of Laboratory Medicine (ASLM) and AARAM (African Association for Research and control of AMR) to monitor the development of this initiative. Interventions by WHO Afro representative Dr. Lucien Manga, and Dr. Djeneba Sy Sylla, in charge of the One Health Program in Mali, enriched the discussions. The workshops were followed by a discussion forum led by Professor Ogobara Doumbo on the future of young researchers in West Africa, in the presence of the former Minister of Health of Mali, Dr. Marie-Madeleine Togo.
The next RESAOLAB meeting will be held in Dakar in May 2018, on the occasion of the International Forum on Biology in Africa (FIBA).