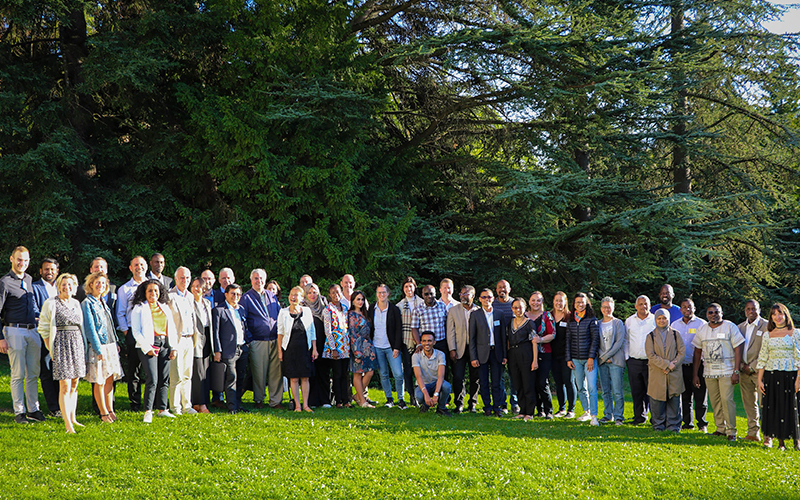 The participants of the ACDx course, at Les Pensières Center for Global Health.
"We must maintain the Pasteur approach, with no borders between countries and no borders between human and animal health" underlined Alain Mérieux, President of the Mérieux Foundation, at the opening of this new edition.
Over the course of a week, the participants attended conferences, round table discussions, debates, workshops and role-play sessions on the six key themes identified by the course's scientific committee:
The value of diagnostics in a global healthcare approach
The role of diagnostics in preparing for epidemics and the lessons learned from the COVID-19 pandemic
Global and national action plans, key role of diagnostics in the fight against antimicrobial resistance
"Technological and Social Innovation" Forum
The reinforcement of laboratory systems to improve access to diagnostics
Importance of partnerships and networks in sustaining laboratory systems
The various ACDx sessions were led by international experts from the world of diagnostics – scientists, universities, industrialists and members of governmental and non-governmental organizations. This included several experts from the Mérieux Foundation, who had the opportunity to share their knowledge and experiences during plenary sessions and group exercises. For example, Dr François-Xavier Babin, Director of International Operations, gave a definition of the laboratory system and Dr Benoît Chevalier, Head of Biomedical Diagnostics, was involved in the session on the importance of quality management systems in laboratories. During the same session, the participants took part in group exercises on quality management, biosafety, biosecurity and accreditation led by Nicolas Steenkeste, Head of Biosafety, Biosecurity and Quality, Ann Thu Ngo, Quality Officer, and Benoît Chevalier. Emmanuelle Boussières also shared her knowledge of RESAOLAB, which is the first regional program designed to strengthen the capacities of laboratories, a fundamental component of the health system.
About ACDx
The Advanced Course on Diagnostics (ACDx) aims to promote the role and value of diagnostics in global healthcare and to reinforce capacities to make critical decisions on diagnostics in developing countries through partnerships and networks. This intensive one-week course has been designed to improve the knowledge and professional networks of the participants. The course focuses on difficulties with access to high-quality diagnostics, particularly in the fight against antimicrobial resistance and preparing for epidemics, as well as encouraging social and technological innovations.
The course is directed by Professor Rosanna Peeling from the London School of Hygiene & Tropical Medicine (LSHTM) and Dr François-Xavier Babin from the Mérieux Foundation. The ACDx program is developed by a scientific committee made up of representatives of the following institutions: , UNICEF, WHO, Special Program for Research and Training in Tropical Diseases (WHO/TDR), US Defense Threat Reduction Agency (DTRA), US Centers for Disease Control and Prevention (CDC), Africa CDC, Clinton Health Access Initiative (CHAI), LSHTM, Global Fundand the Foundation for Innovative New Diagnostics (FIND).
The course is supported by unrestricted grants and sponsorship from bioMérieux, CNine Biosolutions, CEPHEID, Illumina and Roche.