In the field of tuberculosis, we support programs to improve laboratory capacity and local empowerment, which is essential to provide quality diagnostics in developing countries, where over 95% of TB infections and deaths occur.
Our foundation has built high biosafety level BSL3 laboratories in several countries in partnership with national TB programs, which are currently running programs to build TB diagnostic and research capacities.
Bangladesh
Brazil
China
Haiti
Laos
Lebanon
Mali
Tajikistan
Our initiatives to improve access to tb diagnostics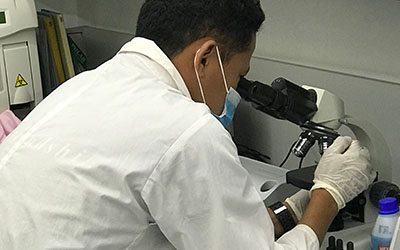 Beyond the laboratory infrastructure, our initiatives encompass all the essential components that go into ensuring quality diagnostics: training, technology transfer, equipment and supplies of reagents and consumables, quality data management, and the logistics of handling samples.
Mali: Supporting the National Tuberculosis Control Program
For 3 years, TB diagnosis have been carried out as part of the National Tuberculosis Control Program in Mali. The BSL3 laboratory at the Charles Mérieux Center for Infectious Disease ensures surveillance of MDR-TB and XDR-TB in Mali and monitoring of TB patients at the Point G Hospital. It is currently conducting a prevalence study of pediatric TB, which accounts for 10 to 15% of cases worldwide.
China: Better tools to detect drug-resistant TB
The foundation has been active since 2002 in China. In 2019, we renewed our cooperation with the Chinese health authorities to provide more sophisticated and reliable diagnostic tools to detect drug-resistant strains in Yunnan Province, which has the highest incidence of MDR-TB strains in the country.
Haiti: Building laboratory capacity to combat TB
The SPHaïtiLAB project, under the EU program "Supporting Public Health Institutes," supports the development of laboratory and research policies in Haiti by providing strategic advice, decision-making support, and training. Within the scope of this project, the GHESKIO Centers conducted a pilot study "Exploring TB prevalence in Haiti and ensuring quality diagnosis," which involved 3,028 patients at five sites.
Lebanon: Training on TB diagnosis
After just a year of training sessions provided by our foundation, the Rodolphe Mérieux Laboratory at Saint Joseph University has become the reference laboratory for Lebanon's Ministry of Health and the country's National Tuberculosis Program, and provides advanced capabilities for tuberculosis-related research projects.
Our initiatives to support TB research
Our foundation supports a number of research projects to improve the detection and treatment of latent TB, which is a WHO priority and a major focus of the End TB Strategy.
Madagascar and Cameroon: Improving latent TB screening
APRECIT is a three-year operational research project launched in 2019 to improve screening of latent TB in community settings and monitor treatment among high-risk groups in Madagascar and Cameroon as part of national tuberculosis control programs. It is supported by a consortium including Expertise France – Initiative 5%, the Mérieux Foundation, the Pasteur Institute of Madagascar and the Pasteur Center of Cameroon. In addition to directly benefitting 2,500 people, APRECIT will raise awareness about TB in both countries.
5 countries: Immune-monitoring to improve TB treatment success
The HINTT project assesses new diagnostic approaches to study which patients respond well to TB treatment in order to improve success rates, especially among children, people living with HIV, and individuals with MDR-TB infections. In 2018, HINTT was rolled out in Bangladesh, Georgia, Lebanon, Madagascar, and Paraguay. Our Emerging Pathogens Laboratory in Lyon is piloting HINTT, with support from the AnBer Foundation.
Laos: Improving the effectiveness of TB control
A study of the molecular epidemiology of tuberculosis in Southeast Asia is being conducted by the Center of Infectiology Lao Christophe Mérieux and the ID-Bio/International Joint Laboratory Research Group with the Institut de Recherche pour le Développement. This research project aims to improve the effectiveness of tuberculosis control measures taken by health centers in Laos.
15 countries: Connecting laboratories via the GABRIEL network
The foundation supports TB programs through the GABRIEL (Global Approach to Biology Research, Infectious diseases and Epidemics in Low-income countries) network of laboratories. GABRIEL focuses on capacity building and improving laboratory-based surveillance. The network's collaborative research projects include a national TB prevalence survey in Laos; a TB transmission study among inmates in Bangladesh; and studies of household MDR-TB transmission in Georgia.
Long-term impact
We take a long-term view based on sustained support leading to autonomy and local ownership of infrastructures and programs. Our initiatives to support research and access to diagnostics in TB show what can be achieved by working closely with health authorities and partners at every level of the health system.