The Rodolphe Mérieux Laboratory of Beirut (Lebanon), a member of the GABRIEL laboratory network, is an observatory for pathogenic agents and infectious diseases in Lebanon. Located in the Health Technology Center of Saint-Joseph University in Beirut, which has ownership of the laboratory, it provides a response to urgent needs in the field of infectious diseases in Lebanon and the region.
The laboratory is managed by Professor Marianne Abi Fadel.
Diagnoses that benefit the most vulnerable people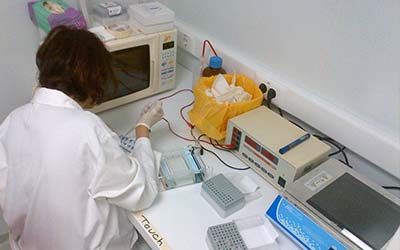 In collaboration with several Lebanese hospitals, the laboratory diagnoses medical conditions (including hepatitis, HIV, tuberculosis, and STIs, in addition to its research and training activities. It was created to fight infectious diseases and epidemics for those who are most vulnerable.
The laboratory includes class BSL1, 2, and 3 zones, with:
A microbiology unit;
A molecular biology unit for the extraction of nucleic acids, DNA amplification, post-amplification analysis, and biological sample storage;
A unit for mycobacteria and other airborne pathogenic agents (BSL3).
These unique facilities and their cutting-edge equipment make it a benchmark laboratory in Lebanon, which lacks an operational national laboratory.
High-quality biosafety training (BSL3) is offered to the laboratory's scientists, who are also trained in Streptococcus pneumoniae typing tests. The Mérieux Foundation is also assisting the laboratory in implementing the LQSI (Laboratory Quality Stepwise Implementation) tool, a free tool developed by the World Health Organization to help meet the ISO 15189 standard.
The laboratory was designed to meet the specifications of the ISO 14644 standard, parts 1 and 4 ("Cleanrooms and Associated Controlled Environments").
Research projects of scientific interest for Lebanon and the region
A medical microbiologist assigned by the Mérieux Foundation supports the laboratory in developing its research projects.
The research activities developed by the Rodolphe Mérieux Laboratory fall into two categories.
First, the Rodolphe Mérieux Laboratory conducts research program related to the GABRIEL network's programs, including the PEARL project (Pneumonia's Etiology Among Refugees and Lebanese Population). This project, launched in late 2016, studies the etiology of respiratory infections in Syrian refugees in Lebanon, the aim being to improve the care they receive.
Second, the Rodolphe Mérieux Laboratory also conducts projects of scientific interest for Lebanon and the region:
Observation of pathogenic agents and bacterial resistance to antibiotics in Lebanon;
Study of the genetic medium for resistance in the most common bacteria in Lebanon;
Study of the activity of new antibacterial molecules, participation in international trials;
Development of new molecular techniques for diagnosing and hunting for pathogenic agents and contaminants in drugs, healthcare products, cosmetics, and food. Example: DNA chip and sale on the market;
Development of fundamental and applied research in the field of vaccines;
Immunology and immunotherapy: preparation of antibodies and recombinant proteins for therapeutic and diagnostic use.