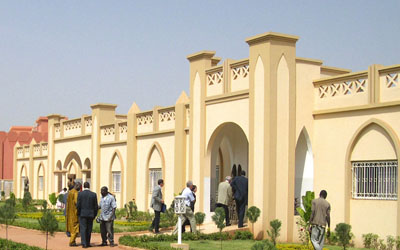 The Rodolphe Mérieux Laboratory of Bamako (Mali), a member of the GABRIEL laboratory network, is a medical testing laboratory that is part of the Charles Mérieux Center for Infectious Disease in Bamako. It allows the local medical and scientific community to benefit from high-quality biological diagnostic tools.
A benchmark laboratory according to Mali's authorities
The Rodolphe Mérieux Laboratory has been identified by Mali's Minister of Health and Public Hygiene as a benchmark laboratory for diagnosis of the Ebola virus, the Zika virus, and Lassa fever, as well as molecular diagnosis of tuberculosis and monitoring of patients receiving treatment for tuberculosis.
Every day, clinical biology tests are performed in bacteriology (mycobacteria), hematology, serology (toxoplasmosis, HIV), parasitology (malaria), biochemistry, and molecular biology (HIV viral load, molecular tuberculosis diagnosis).
In response to the 2014 epidemic caused by the Ebola virus in western Africa, the capabilities of the Rodolphe Mérieux Laboratory were expanded in 2015, with an EM-Lab mobile laboratory being made available. This laboratory makes it possible to perform mobile diagnoses of the Ebola virus and other dangerous pathogens.
Research activities predominantly concerned with infectious diseases
The Rodolphe Mérieux Laboratory features facilities and equipment that have allowed it to form a real applied research unit and carry out research projects for the GABRIEL network. Its research activities primarily deal with infectious diseases (tuberculosis, HIV/AIDS, hepatitis B and C, etc.).
The laboratory has also participated in a pneumonia study in collaboration with the pediatrics service of the Gabriel Touré University Hospital in Bamako, in addition to evaluating patient sensitivity to tuberculosis drugs and identifying multidrug-resistant Mycobacterium tuberculosis strains.
Training for biologists and laboratory technicians
The Rodolphe Mérieux Laboratory is divided into five units: immuno-serology, hematology, biochemistry, microbiology, and molecular biology. It was designed to meet the specifications of the ISO 14644 standard, parts 1 and 4 ("Cleanrooms and Associated Controlled Environments").
The Charles Mérieux Center for Infectious Disease is also outfitted with several training laboratories and a library in which biologists and laboratory technicians working in analysis laboratories can receive training. The center also participates in the West African Network of Biomedical Analysis Laboratories (RESAOLAB), which concerns 7 countries: Benin, Burkina Faso, Guinea, Mali, Niger, Senegal, and Togo.
Partners
Government of the Republic of Mali
Fondation Christophe et Rodolphe Mérieux