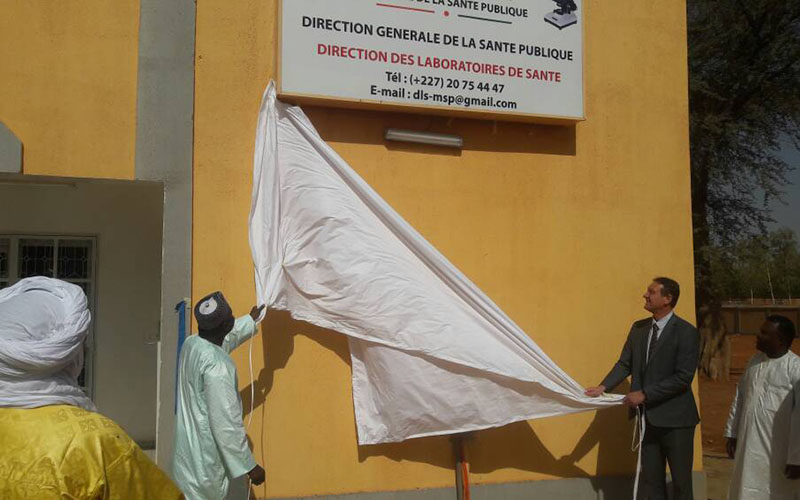 This inauguration ceremony will be held under the patronage of Dr. Idi Illiassou Mainassara, Minister of Public Health; in the presence of Marcel Escure, French Ambassador to Niger; Jean-Christophe Maurin, Director of the French Development Agency (RESAOLAB's main funder) in Niger; Abdoulaye Douka, Representative from the Department of International Cooperation of the Principality of Monaco; Benoît Miribel, Director General of the Mérieux Foundation; Jean-Louis Machuron, Regional Coordinator of the RESAOLAB program; as well as the Cabinet Director and Secretaries-General of the Ministry of Public Health.
The 300-m2 Laboratories Directorate is located in Niamey and led by Dr. Halimatou Moumouni. It has eight offices, a meeting room, and an External Quality Assessment laboratory. This laboratory, which is focused on bacteriology, immunology, hematology, and biochemistry, is made up of a preparation and destruction room, an archive room, a storage room for equipment and reagents, and a storage room for samples.
The ceremony also symbolically inaugurates the Continuing Training Center, located in Zinder. This 260-m2 building has two offices, a meeting room, a 12-seat classroom, a 12-seat practical training room, a preparation and destruction room, a break room, and a storage room.
Supporting the development of an effective clinical biology system
RESAOLAB was designed by West African health players and the Ministries of Health of the seven member countries. It is the first regional program in West Africa working to strengthen biomedical analysis. One of its main activities is providing the Ministries of Health in member countries with infrastructure to support the development of an effective clinical biology system. This kind of system is critical for improving public health. In Niger, this Laboratories Directorate will strengthen the country's laboratory system, thus helping to improve the quality of health care.
Since RESAOLAB was launched in 2009, six Laboratories Directorates have been built and equipped in West Africa.
In Niger, the main outcomes of the RESAOLAB program are:
Implementation of a National Quality Plan
178 laboratory supervised
20 laboratories involved in an external quality assessment program
15 BAMS scholarships
2 DES in Medical Biology scholarships
23 trainers trained
27 continuing education sessions covering all modules
2 people trained in the use of LabBook, a computerized Laboratory Information Management System (LIMS)
2 technicians trained to maintain laboratory equipment
The practical training rooms at the National School of Public Health in Niamey were also renovated and equipped.
About RESAOLAB
This inter-country West African laboratory network was launched in 2009 by Fondation Mérieux in collaboration with the ministers of Health of Burkina Faso, Mali and Senegal. Four new countries joined the network in 2013: Benin, Guinea, Niger and Togo. The program is made possible thanks to the support of Agence Française de Développement (AFD), Islamic Development Bank, International Cooperation of the Principality of Monaco, Stavros Niarchos Foundation and Fondation Mérieux. The World Health Organization and the West African Health Organisation (WAHO) collaborate on the program.
It focuses on 6 key objectives:
• improve laboratory services by setting up a standardized quality system
• strengthen initial and continuing training for laboratory staff
• establish a Laboratory Information Management System (LIMS) in the network's main laboratories
• contribute to increasing funding for laboratory systems
• reinforce national systems for purchasing, maintenance and management of laboratories
• improve regional and national governance of laboratory systems.
The Mérieux Foundation in Niger
The Mérieux Foundation is helping Niger's Ministry of Public Health develop a nationwide laboratory system through two projects: the RESAOLAB network and the overview of the country's laboratories.
RESAOLAB is one of the Mérieux Foundation's flagship projects. It contributes to the development of a network-based approach to fighting against infectious diseases, bringing together health authorities, public and private researchers, international organizations, governments, development banks, foundations, NGOs, and the health industry.
The Mérieux Foundation is also partnering with the African Society for Laboratory Medicine and the Ministry of Public Health on a project to collect data for the overview of medical laboratories. This project goes from August 2017 to July 2018, and is intended to take stock of all the laboratory components in all of Niger's laboratories. The Foundation is responsible for collecting data in the field and leading trainings for local personnel.
Learn more about the activities of the Mérieux Foundation in Niger