Context
The Mérieux Foundation has been active in Guinea since 2013 as part of the RESAOLAB program. In response to the epidemic caused by the Ebola virus, we consolidated our teams and stepped up our activities to address emergency needs. The Foundation also joined LAB-NET, a post-emergency project begun in June 2015, funded by the French Ministry of Foreign Affairs and coordinated by Expertise France in partnership with the Institut Pasteur.
As part of LAB-NET, a team of evaluators visited the 115 laboratories operating at different levels of the health pyramid (regional hospitals, prefectural hospitals, community health centers and other health centers). The experts observed serious shortcomings in the Guinean national network of laboratories: poorly-adapted infrastructure, obsolete and defective equipment, inadequate water and electricity supplies, and "uncontrolled" management of biological waste. They also noted that staff were insufficient in number and under-qualified, while quality controls were practically non-existent.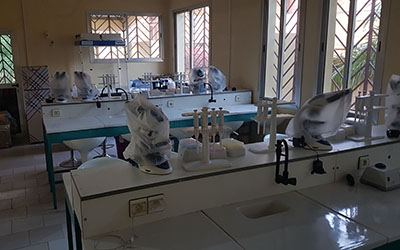 Given the major shortcomings observed in the laboratory network, the Guinean Ministry of Health asked the Mérieux Foundation to implement the LABOGUI project in order to strengthen Guinea's national network of laboratories, with the funding of Agence Française de Développement, partner of the RESAOLAB program.
Aims
The Mérieux Foundation supports the Ministry of Health for the implementation of the national medical biology policy with a double focus:
Strengthening prefectural and regional laboratories;
Improving the practices of laboratory professionals.
Activities
Strengthening the laboratories
To strengthen the laboratories, the Mérieux Foundation is working to:
Ensure water and electricity supplies for 39 prefectural and regional laboratories;
Renovate and equip these 39 laboratories;
Organize the flow of supplies of reagents and consumable materials;
Improve waste management at the 39 laboratories;
Establish standardized processes outlined in a national handbook of good laboratory practices (performing analyses correctly, handling and transporting samples, quality assessment, etc.).
Implementation of a LIMS (Laboratory Information Management System) LabBook to improve and standardise the management of patient data, laboratory stock management in the 39 laboratories
Stepping up training and modernizing the National School of Health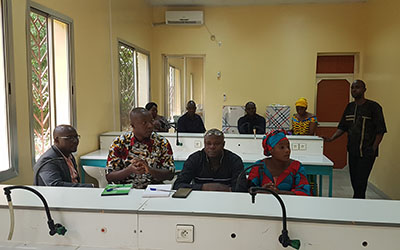 To improve the practices of laboratory professionals, the Mérieux Foundation has focused on improving the quality of training by renovating the Kindia National School of Health. Nurses, social workers, midwives and laboratory technicians attend this school for three years of theoretical and hands-on education.
The school currently provides the pool of laboratory technicians, and there is a need to improve its infrastructure and equipment. The Mérieux Foundation is focusing on energy supplies (water and electricity) and the renovation of a training room for laboratory technicians, as well as providing appropriate equipment and teaching materials.
Another aim of the LABOGUI project is to improve continuing education. Eight national technical assistants based in each of the country's eight regions and supervised by an international expert based in Conakry provide local support. The assistants go to laboratories on a day-to-day basis to deliver training to technicians in their labs and to demonstrate good practices.
Achievements
100% renovation work has been completed;
98% of the solar installations have been installed;
Installation of biochemistry and haematology equipment and ongoing training in all laboratories;
Rehabilitation of the National School of Health in Kindia with the installation of an autonomous power and water supply for the National School. Supply of equipment and reagents for carrying out the practical work. This rehabilitation was not limited to the school since it has made it possible to re-establish free access to water, which had been cut off for 17 years, for more than 2,000 people (girls and boys boarding schools and housing for teaching staff).
Implementation of an External Quality Assessment (EQA): 4 carried out (2 each year);
5 training sessions over 39 sites with an average of 10 people per course in 2019;
4 training sessions  at national level with an average of 25 people in 2019;
More than 580 quality documents  (SOP: Standard Operating Procedure) have been written and validated – an average of 15 documents per structure;
Implementation of an Internal Quality Control (IQC) in 39 laboratories;
Supervision of the creation of a biobank within the Institut Pasteur of Guinea;
Deployment of the LabBook software 51% completed (software and associated computing).
Partners
Operational:
Funder: