The WARDS project targets 7 countries that are part of RESAOLAB (Benin, Burkina Faso, Guinea, Mali, Niger, Senegal and Togo) as well as 8 other ECOWAS members (Economic Community of West African States): Cape Verde, Côte d'Ivoire, Gambia, Ghana, Guinea-Bissau, Liberia, Nigeria and Sierra Leone.
Context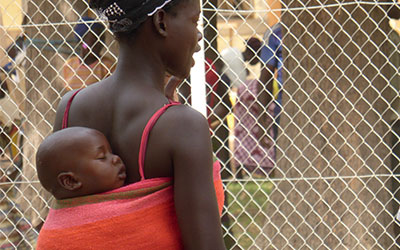 The WARDS project aims to improve disease surveillance and the response to epidemics in the 15 ECOWAS member states.
More specifically, it seeks to improve the capacity to detect infectious diseases at the district and regional levels by training healthcare personnel in 60 epidemiological surveillance centers.
Aims
In light of RESAOLAB's achievements, the West African Health Organization (WAHO) asked the Mérieux Foundation and other partners to help implement the WARDS project.
The Mérieux Foundation coordinates the laboratory aspect of the project, with three goals:
Strengthen the capacity of laboratory staff in charge of disease surveillance in epidemiological surveillance centers set up by the project, using the RESAOLAB approach;
Ensure access to on-line training modules on laboratory techniques and management, for all laboratory personnel from ECOWAS countries;
Support WAHO to develop regional laboratory policies and activities.
Activities
Assess the current standing of laboratories in the non-RESAOLAB countries, select training sites, and identify trainers and local experts;
Apply the RESAOLAB approach to building laboratory human resource capacity by:

Organizing a prepatory workshop and coordinating training sessions;
Translating and adapting training modules;
Training the trainers;
Setting up training sessions.

Develop English and Portuguese self-training modules on laboratory techniques and management;
Ensure the participation of new countries in RESAOLAB regional steering committees and technical meetings.
Achievements
Assessment mission
An assessment mission was carried out in late 2016, in 7 countries: Cape Verde, Côte d'Ivoire, Gambia, Ghana, Guinée-Bissau, Nigeria and Sierra Leone.
Training
8
Training modules translated into English and Portuguese
198
technicians trained during 12 training sessions
50
Trainers trained during 4 training sessions
Besides the trainings, the Mérieux Foundation carried out or contributed to the implementation of complementary activities, at the request of local partners:
In Nigeria, an assessment of the laboratories was carried out in the States covered by the project;
In the Ivory Coast, post-training supervision and situational analysis of laboratories in the various health districts that received training was carried out;
In Ghana, two districts in the project were supervised to see whether measures were implemented after the training.
Short intensive training courses on external quality assessment (EQA) were also organized in partnership with Oneworld Accuracy. This specialized consultancy has agreed to train all ECOWAS countries in EQA and to provide free panels to set up the process over several months.
Partners
Operational:
Funder: