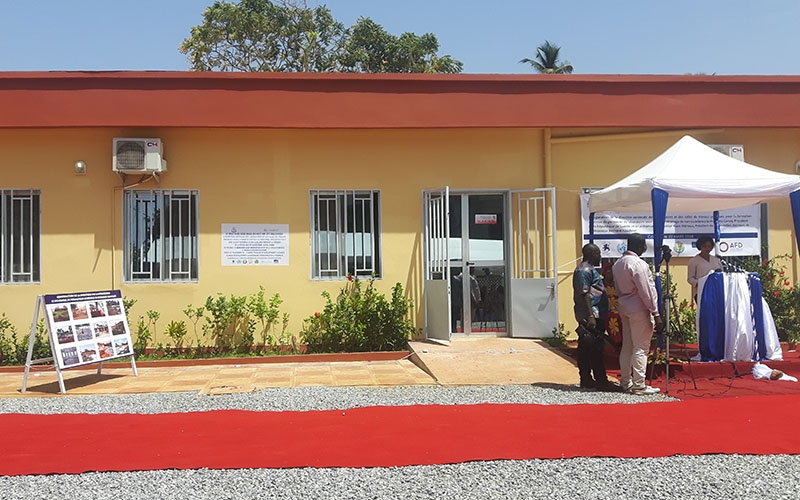 This inauguration ceremony will be presided over by His Excellency Alpha Condé, President of the Republic of Guinea, in the presence of Mohamed Tall, Minister of Livestock and Animal Production (as part of the One Health program); Aissatou Baldé, Minister of Environment, Water and Forestry; Jean-Marc Grosgurin, the French Ambassador to Guinea; Bernard Kouchner, co-founder of Médecins Sans Frontières and Médecins du Monde, former French Minister of Health and of Foreign and European Affairs; Dr. Saliou Bah, recently named Director of the National Laboratories Directorate; Alain Mérieux, President of the Mérieux Foundation; Patricia Aubras, Director of the French Development Agency (RESAOLAB's main funder); Jean-Louis Machuron, Regional Coordinator of the RESAOLAB program; and Kadiatou Kéita, Director of the Institute for the Professional Development of Healthcare Providers. Directors of various departments in the Guinea Ministry of Health will also be present, alongside representatives from Institut Pasteur; the World Health Organization; the Global Fund to Fight AIDS, Tuberculosis and Malaria; the NGO Solthis; INSERM; and Expertise France.
The new one-story building is nearly 450 m2. The National Laboratories Directorate includes a director's office, five other offices, an archive room, and a meeting room. The Continuing Training Center for laboratory technicians includes a 40-seat classroom, two practical training rooms with laboratory benches and equipment for 12 people, a multimedia room equipped with computers for 16 people, and a preparation laboratory for the practical work. The building was financed by the RESAOLAB program for 350,000 euros.
Supporting the development of an effective clinical biology system
RESAOLAB is an innovative network designed to improve access to high-quality diagnosis for vulnerable populations in seven West African countries, including Guinea. One of RESAOLAB's main activities is providing the Ministries of Health in member countries with infrastructure to support the development of an effective clinical biology system. This kind of system is critical for improving public health and monitoring epidemics.
In Guinea, this new Laboratories Directorate will help carry out the Ministry of Health's clinical biology policy. In particular, it will allow the Ministry to coordinate the country's clinical biology laboratories, verify the quality of their analyses, and orient personnel towards additional training if necessary.
Since RESAOLAB was launched in 2009, five Laboratories Directorates have been built and equipped in West Africa. Two more will be inaugurated in early 2018.
The Mérieux Foundation in Guinea
In Guinea, the Mérieux Foundation has three ongoing projects:
LAB-NET: The purpose of this project is to strengthen the capabilities of laboratories in Guinea to ensure quality diagnostics and create a national surveillance system for viral hemorrhagic fevers. Thanks to funding from the French Ministry of Foreign Affairs, in partnership with Expertise France, the LAB-NET project has evaluated 115 laboratories in the country, in collaboration with the Ministry of Health. The evaluation made it possible to identify the needs of this healthcare sector and establish an overview of the conditions the laboratories are in.
LABOGUI: The purpose of this project is to strengthen 30 laboratories in Guinea and refurbish the National School of Health. Following the evaluation of laboratories as part of the LAB-NET project, the French Development Agency (which already funds the RESAOLAB program) asked the Mérieux Foundation to carry out this project to strengthen Guinea's national laboratory network.
REDISSE: The purpose of this project is to improve disease surveillance systems in ECOWAS countries. In order to prevent new epidemics and other public health emergencies, or provide the appropriate response when they occur, ECOWAS countries and the West African Health Organization (WAHO) created the REDISSE project. As part of this project, the Mérieux Foundation is responsible for training technicians and setting up quality control in 47 laboratories in five countries: Guinea, Guinea-Bissau, Liberia, Sierra Leone, and Togo.
Find out more about the Mérieux Foundation's activities in Guinea
About RESAOLAB
This inter-country West African laboratory network was launched in 2009 by Fondation Mérieux in collaboration with the ministers of Health of Burkina Faso, Mali and Senegal. Four new countries joined the network in 2013: Benin, Guinea, Niger and Togo. The program is made possible thanks to the support of Agence Française de Développement (AFD), Islamic Development Bank, International Cooperation of the Principality of Monaco, Stavros Niarchos Foundation and Fondation Mérieux. The World Health Organization and the West African Health Organisation (WAHO) collaborate on the program.
It focuses on 6 key objectives:
improve laboratory services by setting up a standardized quality system
strengthen initial and continuing training for laboratory staff
establish a Laboratory Information Management System (LIMS) in the network's main laboratories
contribute to increasing funding for laboratory systems
reinforce national systems for purchasing, maintenance and management of laboratories
improve regional and national governance of laboratory systems.
In Guinea, the main outcomes of the RESAOLAB program are:
109 laboratories supervised in all the regions (Lower, Middle, and Upper Guinea, as well as Forested Guinea)
20 laboratories involved in an external quality assessment program
22 trainers trained
27 continuing education sessions with 11 modules
2 senior laboratory technician grantees
2 grantees with a DES in Medical Biology degree
2 grantees trained to maintain laboratory equipment
Renovation of the National School of Health in Kindia.
RESAOLAB is one of the Mérieux Foundation's flagship projects. It contributes to the development of a network-based approach to fighting against infectious diseases, bringing together health authorities, public and private researchers, international organizations, governments, development banks, foundations, NGOs, and the health industry.