Last update on April 7, 2020
The Mérieux Foundation is working to strengthen novel coronavirus (SARS-CoV-2) detection and infection control capability among its partner laboratory networks. The Foundation's support focuses on two interventions: strengthening diagnostic capacity by quickly deploying a molecular test to detect SARS-CoV-2, and assessing the risk of nosocomial transmission of SARS-CoV-2 in hospitals in order to better understand hospital-based prevention and infection control measures. The work is being carried out in partnership with Prof. Philippe Vanhems from Hospices Civils de Lyon and Prof. Jianwei Wang from the Christophe Mérieux Laboratory in Beijing. The project will be co-funded by the Bill and Melinda Gates Foundation.
The first case of 2019 coronavirus disease (COVID-19) was reported by local authorities in Wuhan, China, on December 31, 2019. The disease has since evolved into a global epidemic, with over 70 countries currently affected and working to respond to the outbreak. The challenge is especially daunting for developing countries, some of which lack the technology and expertise in their health systems to diagnose COVID-19 and control the spread of the disease.
The Mérieux Foundation is harnessing its extensive network on the ground, which includes international laboratories within the GABRIEL network and the RESAOLAB regional laboratory network in West Africa. The Foundation has identified two areas of focus based on feedback from these laboratories, which were asked to indicate where they required strengthening in order to be able to cope with a potential COVID-19 outbreak.
Strengthening local SARS-CoV-2 diagnostic capability
Identifying infected patients is vital to establishing security and quarantine measures and helping to limit the spread of the virus.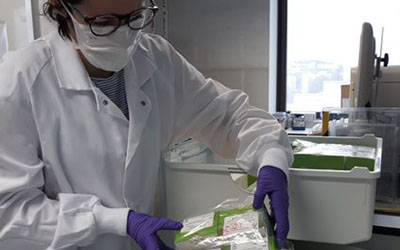 To support the laboratories, members of its networks, the Mérieux Foundation sends detection kits to requesting sites, together with SOPs and WHO recommendations on biosafety. Visioconference meetings are organized in order to provide remote support to the teams and answer their questions.
In order to ensure the capacity to provide a quantity of tests to meet the demand, two viral detection kits are made available. The first kit was developed by the German team of the Charité Laboratory (Team of Prof. C. Drosten, Charity Berlin) and validated by WHO.
Sars-Cov-2 detection kit – Charité laboratory, Germany
This test, validated by WHO, based on the sequences of SARS-CoV-2 coronaviruses and SARS-related viruses, consists of two RT-PCR (Real Time Reverse Transcription Polymerase Chain Reaction) per sample: the first-line screening test detects betacoronavirus SARS-related Cov (Severe Acute Respiratory Syndrome) and the confirmatory test specifically detects SARS-CoV-2.
The EVAg consortium (European Virus Archive, a European consortium funded by the H2020 programme) supports and provides the positive controls, proving that detection of the virus by this test is effective.
The kit developed Christophe Mérieux Laboratory in Beijing, founded jointly by the Mérieux Foundation and the Chinese Academy of Medical Sciences (CAMS), and validated by the Chinese CDC is also shipped. The lab team developed a RT-PCR molecular test being used for all SARS-CoV-2 diagnostics in China.
The Mérieux Foundation will ship the tests to all requesting facilities in order to overcome equipment and technology shortcomings and support quick and effective diagnosis of novel coronavirus cases.
To date, the reagents developed by the German team have been sent to Mali, Republic of the Congo, Lebanon, Togo, Myanmar, and two sites in Bangladesh. Shipment of kits developed by China is underway for Mali, Togo, Myanmar, Bangladesh, Lebanon and Burkina Faso and soon for Paraguay.
Bangladesh: BITID & ideSHi
Burkina Faso: National Center for Scientific Research
Haïti: GHESKIO Centers
Lebanon: Rodolphe Mérieux Laboratory
Mali: Charles Mérieux Center for Infectious Disease
Myanmar: National Health Laboratory
Paraguay: Instituto de invesigaciones en Ciencias de la Salud
Republic of the Congo: Research Center on Infectious Diseases- Christophe Mérieux
Togo: Molecular Biology Laboratory, National Institute of Hygiene
Launching a research protocol to limit nosocomial transmission
While diagnosing COVID-19 is an urgent priority, it is equally important to identify and reduce transmission risk in hospitals. Evidence has shown that SARS-CoV-2, like SARS-CoV-1 in 2003, is characterized by a particularly high rate of nosocomial infections. In response, the Mérieux Foundation in collaboration with Prof. Philippe Vanhems, epidemiologist at the Hospices Civils de Lyon, has developed a research protocol that partners on the ground can use to assess nosocomial transmission risk for SARS-CoV-2: the NOSO-COR project.
This is a prospective, non-interventional – observational, hospital-based study to describe and document cases of COVID-19 nosocomial transmission in hospitals, and to describe infection prevention and control practices and policies in hospitals.
The NOSO-COR project has two features:
mapping available expertise in hospitals in order to identify what interventions are needed to limit nosocomial transmission;
carrying out an epidemiological study to gain a better understanding of transmission chains, risk factors and impact of hospital-based prevention and infection control measures, in order to identify key infection risk factors.
This study will be implemented in the following countries:
Africa: Mali, Senegal, Ivory Coast, Guinea, Madagascar, Burkina Faso, in collaboration with Africa CDC ;
Asia: Bangladesh and Myanmar ;
Americas: Brazil.
The project has been approved by the ethics committee in France and is currently being submitted to the national ethics committees of the partner countries (approved by the Malagasy ethics committee). It Has been registered on clinialtrials.gov website under the identifier NCT04290780.
The protocol has also been made available to eight teaching hospitals in France for subsequent results- and experience-sharing.
The Foundation adapts day-to-day its interventions to local needs and, as circumstances dictate, could foster synergies with other health-care partners on the ground.